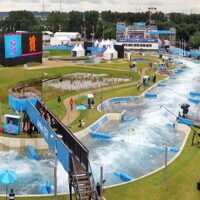 Webinar: Just for fun, recreational hydraulics
Applying hydraulic concepts to artificial whitewater parks, wave pools, waterslides and more!
Have you ever been on a waterslide with an integrated Archimedean spiral? If you're not sure, we'll be answering that question and more in our upcoming webinar on recreational hydraulics.

Studying a hydraulic jump in a fluid dynamics textbook might not sound like all that much fun, but here is your chance to meet some engineers who have applied hydraulic concepts to their passions for whitewater kayaking, surfing, waterslides, and more! Join us for a discussion of the underlying principles feeding into the designs for Olympic whitewater courses, standing surf waves, and adventure park thrill rides.
Date: Wednesday, 2 February 2022
Time: 10:00am (Australia/Sydney; find your local time)
Resources: Webcasts and other documents will be available here
Register your interest: https://awschool.com.au/training/webinar-just-for-fun-recreational-hydraulics/
Presenters:
Details:
Further training:
If you want to begin modelling this for yourself, sign up for our HEC-RAS Training Series on-demand courses here to begin learning instantly.
The upcoming Hydraulics and Hydrology Fundamentals will extensively cover the hydraulic jump and other concepts that will be presented in the webinar.
Background links: