Live training
AWS live training courses are online and designed to build your skills on specific topics and enhance your technical knowledge on the latest developments within the water sector. Our training follows a tradition of industry-led teaching where professionals receive hands-on and interactive guidance from experienced and specialised experts.
By participating in AWS courses you will be exposed to leading thinkers in water resource management, helping to close the gaps between research, policy, education and practice.
The AWS team look forward to welcoming you and your staff. Contact Joel Voortman.
Frequently Asked Questions (FAQ)
Upcoming Live Training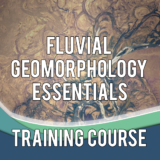 Learn the basics of fluvial geomorphology, focussing on infrastructure crossings
1657152000
Thursday, 7 July, 2022 12:12

Date: Thursday, 7 July, 2022 - Thursday, 21 July, 2022
Location: Online
Presenters: Andy Markham, Michael Cheetham, Ben Pearson, Julian Martin
---
View past live training