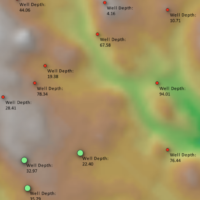 Webinar: QGIS for groundwater applications
Preprocessing open data for groundwater analysis and modelling
QGIS offers great tools for groundwater applications. Join this webinar to learn about the tools in QGIS for groundwater applications. Learn how to prepare data for groundwater analysis and modelling and visualize the results in 2D and 3D. This webinar will demonstrate a typical GIS workflow for hydrogeological studies:
1. Importing borehole data from various sources;
2. Sample elevation at the borehole locations from a DEM;
3. Interpolate groundwater levels of the boreholes to a raster;
4. 2D/3D visualization of groundwater data.
These skills are fundamental for visualizing and analyzing groundwater data.

This is an introduction to the live training course, beginning in May.
Date: Wednesday, 31 March 2021
Time: 4:00pm (Australia/Sydney; find your local time)
Format: ~1 hour (presentation + Q&A)
Resources: Webcasts and other documents will be available here
Register your interest: https://awschool.com.au/training/webinar-qgis-for-groundwater-applications/
Presenters:
Resources:
QGIS
31 Mar 2021
QGIS
31 Mar 2021
Details:
Some key take-home messages from this webinar include:
import QGIS data easily from CSV files and spatial data infrastructures;
correct borehole records that miss surface elevation data by sampling from a DEM;
create continuous rasters from borehole data from different interpolation algorithms in QGIS;
interpret the results of the interpolation using 2D and 3D visualization.
What's next?
This is an introduction to the live training course, beginning on the 6th May 2021.
Further details can be found here.
Registrations Locations: 

---