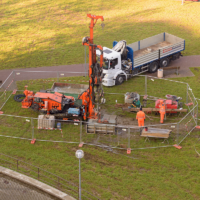 On-demand: QGIS for groundwater modelling
Compile groundwater data, process and create a groundwater map with QGIS
(Course code: OD-21-2-029)

Take sessions anytime, at your own pace with unlimited course access for 30-days.

Focusing on an Australian river catchment as a case study, you will learn how load and import data into a QGIS project, process and create layers from groundwater data and develop groundwater level maps from borehole data and DEM. The course consists of 2 x 2 hours of recording sessions. There is also pre and post course material to develop and solidify your learning. There is also the opportunity to have your questions answered by our expert presenters via our interactive learning platform.
Cost: AUD$295 (includes GST)
Contact: training@awschool.com.au
Register your interest: https://awschool.com.au/training/qgis-for-groundwater-modelling/
Presenters:
Resources:
Details:
This course is designed to be highly practical, with x2, 2-hour recording training sessions.
You will build a model step-by-step with your presenters using QGIS and other tools. You will then run, animate, interpret and troubleshoot your model.
Course Contents: The course will cover 3 main topics across both sessions;  
1: Adding groundwater data to a QGIS project
Load data from online sources into QGIS
Import CSV files
Save data and styling to a GeoPackage
Save a QGIS project to a GeoPackage
2: Process groundwater data in QGIS
Reproject layers
Select features by expression
Export selected features
Create buffers
Dissolve features
Intersect layers
Clip layers
Use the Point Sampling Tool
Join attributes and make them permanent
3: Create a groundwater level map from borehole data and a DEM
Calculate the density of the boreholes in a polygon
Download the SRTM 1-Arc Second DEM
Clip and reproject a DEM
Style a DEM
Sample elevation at the borehole location and compare it with the elevation attribute
Make corrections and calculations in the attribute table
Interpolate groundwater levels of the boreholes to a raster
Format: 
The course is delivered through units via the learning platform
2 x 2 hours of recordings
Pre-and-post-course materials to go through via the learning platform.
Exercises between the 2 sessions.
Manual of the course and working model download/s.
Ability to access all the online course materials for up to a month after first signing up for the course. The pre-readings/videos and manual/s are available for ongoing learning.
Preparation:
Pre-course reading and video watching is encouraged. There is also an opportunity to tailor the sessions to your direct questions via the initial survey. After the first week you will be given some exercises to complete, prior to the next session.
Requirements: A good internet connection and software and downloads as described in the learning platform.
Outcome: On completion of the course attendees will be issued with a Certificate of Participation.