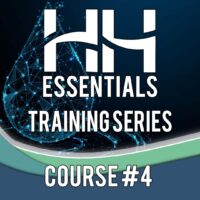 Live Course: Stochastic hydrology, #4 H&H Essentials
View next course in the series
Determine annual exceedance probabilities from historical gauge records
(Course code: LS-22-3-050)

In this 3-hour intensive training course, attendees will increase their knowledge of statistical methods used to interpolate and extrapolate design results for a range of recurrence intervals. Throughout the course attendees will be shown practical working examples, learning hands-on how to use and apply different statistical techniques and regression equations, including the computation of confidence limits associated with predicted results.

To find out more about the series, see below.
Date: Thursday, 26 May 2022
Time: 9:00am (Australia/Sydney; find your local time)
Location: Online
Format: x1, 3 hour live interactive session + Pre/post-course materials via the learning platform; live recording available post session
Cost: AUD$195 (includes GST) or combine with the full H&H Series and save 15%
Contact: Joel Voortman
Register your interest: https://awschool.com.au/training/stochastic-hydrology/
Presenters:
Details:
Key concepts/topics covered
Probability distributions: normal, exponential, Gumbel, and Log-Pearson
Histogram development and plotting position formulae
Running flood frequency analyses
Regional regression equations
Learning objectives
How to select a probability distribution
How to incorporate historic events in a flood frequency analysis
How to identify outliers
How to determine confidence limits for flow estimation
Background
This course is part of our H&H Essentials series, comprised of 8 individual intensive 3-hour courses with each course flowing into the next enabling attendees to build their skills piece by piece through every course. Each course in the series will focus on a key principle of hydrology and hydraulics. Click hereto register for the ENTIRE series.
Prerequisites
These courses are designed to cater for engineers and non-engineers alike, with a range of provided background materials that make the course suitable for both beginners and experienced professionals seeking a refresher for the underlying concepts behind hydrologic and hydraulic modelling applications.
Format
Each course consists of a 3-hour live session with pre- and post-course materials delivered through sequential units via our customised learning platform. Recordings of the live sessions will be made available to all attendees for later review. The courses include electronic copies of background material and workshop instructions, with pre-readings/videos and manuals available for ongoing learning.
As a live attendee, you will have unlimited access to all courses in the series until the 30th of September 2022.
What's included within each of the 8 courses in the series:
3-hours of session recordings to view as many times as required;
Ability to ask questions to the presenters at any time through the learning platform;
PDF manual of the course available for ongoing use;
Workshop material for hands-on exercises downloaded from the learning platform before starting the session recordings;
Pre-reading and viewing materials.
Preparation
Pre-course reading and video watching is encouraged.
Requirements
A good internet connection and software and downloads as described in the learning platform. To provide the best desired learning outcomes, set up in a quiet space with dual monitors (i.e., one screen with the on-demand recording and the other with the software/exercise that attendees can work on simultaneously).
Certification
On completion of the course attendees will be issued with a Certificate of Participation. Attendees earn CPD hours/points with professional organisations for at least 5 hours per course (therefore 40+ hours for the series).