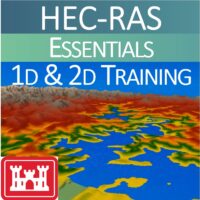 On-demand: HEC-RAS Essentials 1D & 2D
Master the powerful features of HEC-RAS by building 1D & 2D flood models
(Course Code: OD-21-3-013)

Expert presenters will step-through the latest updates in version 6.0 of HEC-RAS. This course gives an overall perspective that helps understand why 1D is important whilst mainly focusing on 2D. It includes additional features and tools, improved modelling capabilities and faster run times. Follow along and build your own model as we introduce you to fundamental processes and key concepts of HEC-RAS.

The course consists of three, two-hour training sessions. This provides attendees a unique opportunity to ask questions as they build a model with presenter, Krey Price, a highly experienced HEC-RAS user with extensive software development and lecturing experience. His career includes 15 years of developing hydraulic models for the U.S. Army Corps of Engineers.

Format: Take sessions anytime, at your own pace with unlimited course access for 30-days. Sign up for the entire series and you will have 4 months of access to all the courses.
Cost: AUD$495 (includes GST)
Register your interest: https://awschool.com.au/training/hec-ras-essentials/
Presenters:
Surface Water Solutions
Educated at the University of California at Berkeley, Krey is a civil engineer and project manager with international experience in water resources. He is engaged in computational modelling, engineeri...
Read more
C.K.Engineering Services
Con is a civil engineer experienced in the field of water engineering, specialising in stormwater drainage and flooding. Con has had a lot of experience with catchment investigation and analysis, floo...
Read more
Details:
Register now for the ENTIRE Training Series (all four courses) and receive a 15% discount.
Or register now for this individual course, and begin instantly!
Master the powerful features of HEC-RAS and build 1D & 2D models from scratch without requiring third-party software.
Krey Price, Director of Surface Water Solutions, is a highly knowledgeable HEC-RAS user and experienced presenter who clearly describes the principles to maximise your awareness, understanding, and confidence in using HEC-RAS.
Learn how to set up, run, animate, interpret and troubleshoot your model.
With 9+ hours of training materials, a step-by-step manual to follow, exercise homework and a final quiz, this course will provide an invaluable benchmark for the novice user or someone who is interested in updating their knowledge to the latest version of HEC-RAS.
Download the latest version of HEC-RAS here.
Format, this course is designed with:
44 units to complete consecutively via this learning platform,
The course includes 6+ hours of training recordings, across 3 parts,
Each of the 3 parts are split into topical units, lectures and workshops,
Pre-and-post-course materials to go through via this learning platform,
Exercises to follow through via a training manual, between the 3 parts of the course,
You will have unlimited access to all the course materials for 30 days or signup for the entire series and you will have 4 months of access to all the courses.
Preparation:
Pre-course reading and video watching is encouraged. Spread throughout the course, you will be given some exercises to complete, prior to moving forward.
Topics covered include:
Setting up RAS Mapper
Adding river, banks, and flow paths
Aligning cross sections
Adding roughness
Entering flow data
Running your simulation
Viewing your results
Adding bathymetry
Analysing roughness sensitivity
Analysing boundary condition sensitivity
Viewing cross sections and profiles
Investigating and viewing results
Exporting results
Adding 2D areas and mesh refinements
Add inflow boundary conditions
Add stage hydrograph boundary conditions
Selecting time steps based on Courant number
Add precipitation
Adding culverts and weirs
Selecting equation set
View results in RAS Mapper
Export results
This course is designed with:
Units to complete via a learning platform.
Recordings split into easy-to-follow steps. All attendees are provided access to the recordings if you cannot attend live.
Exercises to follow through- via a training manual.
Surveys and a final quiz to receive your certificate of completion.
Ability to ask questions to your presenter and submit survey responses.
Requirements:
A good internet connection and the latest version of HEC-RAS. A mouse with a centre e-wheel button is recommended. Using dual monitors is highly beneficial (one with the video recording & one with your own model).
Please note:
We will be using the latest HEC-RAS Version 6.0.0 in this course.
Version 5.0.4 and newer will only run on 64-bit Windows operating Systems (including 64-bit versions of Window 7, 8.0, 8.1 and 10). Make sure your operating system is up-to-date with all Microsoft patches for your version, before trying to install HEC-RAS.
Completion: On completion of the course attendees will be issued with a Certificate of Participation.
What's Included
The HEC-RAS Training Series is designed to be taken individually. Each course is highly practical and hands-on ie; not simply a PowerPoint of lectures.
To provide the best desired learning outcomes, setup in a quiet space with dual monitors (ie one screen with the session and the other with the software/exercise that attendees can work on simultaneously). The courses are not designed for a board-room setup.
x3, 2-hour sessions and the recordings to view as many times as required in a month;
Signup for the entire series and you will have 4 months of access to all the courses;
Ability to ask questions to the presenters at anytime through the learning platform;
PDF manual of the course. The manual is recommended for ongoing use;
Working models, downloaded from the learning platform before starting the course;
Exercises / homework to complete between sessions;
Pre-reading and viewing materials;
Ability to access all the online course materials for a month. The pre-readings and manual are available for ongoing learning;
Attendees earn 9+ CPD hours/points (ie with Engineers Australia), 40+ hours for the Series.