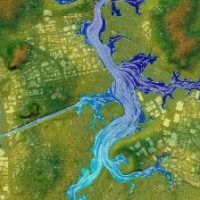 Webinar: What's New in HEC-RAS 5.0.4?
View 2D Water Modelling with HEC-RAS Course March 2019
Discover the latest updates to be released in HEC-RAS 5.0.4 that will benefit your work.
Hydrologic Engineering Centres-River Analysis System (HEC-RAS) is widely used especially for predicting the impacts of flooding.

Acknowledged industry icons who work with the HEC-RAS authors and developers, Mark, Krey and Rob, are back to explain these key strategic HEC-RAS improvements:

* Faster computation speed
* Ability to pre-process all 1D elements in RAS Mapper without GEO-RAS.
* Additional hydraulic structure options
* Variable computational time step
* RAS Mapper enhancements
* Internal boundary conditions
* 2D polygon mesh refinement
* Interface Bug Fixes

This is the first in a series of 2018 HEC-RAS Webinars aimed at specific aspects of this widely used water modelling software.
Date: Thursday, 22 February 2018
Contact: Trevor Pillar tpillar@awschool.com.au
Resources: Webcasts and other documents will be available here
Register your interest: https://awschool.com.au/training/webinar-whats-new-hec-ras-5-0-4/
Presenters:
Resources:
Details:
Registrants Locations Map:
---