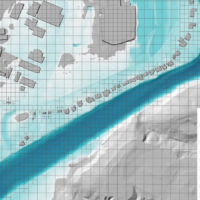 Webinar: Next generation 2D hydraulic modelling
Is this the end of the 1D open channel modelling?
TUFLOW's recent software advances have dramatically increased the reliability, simulation speed and workflow efficiency or 2D hydraulic modelling. Does this signal the end to the requirement for 1D open channel / 2D floodplain linked models?
Date: Thursday, 15 July 2021
Time: 1:00pm (Australia/Sydney; find your local time)
Resources: Webcasts and other documents will be available here
Register your interest: https://awschool.com.au/training/webinar-next-generation-2d-hydraulic-modelling/
Presenters:
Details:
Sponsored by: