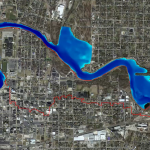 Webinar: Water Modelling using HEC-RAS: 1D and 2D
View 2D Water Modelling with HEC-RAS Course March 2019
The Hydrologic Engineering Center (HEC) in Davis, California developed the River Analysis System (RAS) to aid hydraulic engineers in channel flow analysis and floodplain determination. It includes numerous data entry capabilities, hydraulic analysis components, data storage and management capabilities, and graphing and reporting capabilities.
Date: Thursday, 11 May 2017
Contact: Trevor Pillar, Ph: 08 8236 5200 E: tpillar@awschool.com.au
Resources: Webcasts and other documents will be available here
Register your interest: https://awschool.com.au/training/webinar-hec-ras-modelling/
Presenters:
Resources:
Water Modelling & GIS
11 May 2017
Water Modelling & GIS
11 May 2017
Details:
Dam Break Analyses (Aerial Map Animation), Bald Eagle Sunny Day Failure:
Credit: US Army Corps of Engineers
HEC-RAS allows the user to perform 1D steady flow, one and 2D unsteady flow calculations, sediment transport/mobile bed computations, and water temperature/water quality modelling. Over six years since the last release, Version 5.0 recently been made available for free download. The new version includes two-dimensional floodplain modelling, unsteady sediment transport, bank erosion, water quality, and the RAS Mapper GIS interface.
Attendee Locations (as of 3/5/17):

Interested in the capabilities available in HEC-RAS? Further details are available from the US Army Corps of Engineers.
---