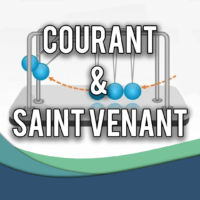 Webinar: From Courant to Saint Venant
This webinar will explore the equations that are hidden inside the "black box" of most hydraulic modelling programs and will launch our Hydrology and Hydraulics (H&H) Essentials training series
The Saint-Venant shallow water equations are hidden inside the "black box" of most hydraulic modelling programs. Get stoked with Stokes et al. as our expert presenters pull the equations out of the box and trace their origins back to first principles. If differential equations do your head in, we'll start with real-world analogies to outline the basic foundations of hydraulic modelling, including:

• Conservation of mass, energy, and momentum
• Implicit vs. explicit solutions
• Finite difference, finite element, and finite volume analyses
• The significance the Courant Number
• Navier-Stokes vs. Saint Venant equations

This free webinar will launch our Hydrology and Hydraulics (H&H) Essentials training series beginning May 5.

Date: Wednesday, 4 May 2022
Time: 9:00am (Australia/Sydney; find your local time)
Cost: Free
Resources: Webcasts and other documents will be available here
Register your interest: https://awschool.com.au/training/webinar-from-courant-to-saint-venant/
Presenters:
Resources:
Modelling - general knowledge
6 May 2022
Modelling - general knowledge
4 May 2022
Details:
Full details here for the Hydrology and Hydraulics Essentials Series from May 5, 2022!
Registrants Locations:
---