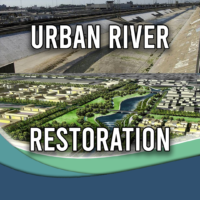 Webinar: Escape from the concrete jungle
Join us for a discussion of river restoration projects that have been undertaken in urban settings, including both successes and failures
Trapezoidal concrete drainage channels are a movie icon and potentially an efficient way to convey stormwater; but their presence is a sign of a displaced river system. Join us for this discussion of river restoration project that have been undertaken in urban settings. We'll present successes and failures in urban creek rehabilitation projects, including risks and benefits that accompany the replacement of concrete drains/channels with natural/meandering waterways.

Date: Wednesday, 2 November 2022
Time: 10:00am (Australia/Sydney; find your local time)
Resources: Webcasts and other documents will be available here
Register your interest: https://awschool.com.au/training/webinar-escape-from-the-concrete-jungle/
Presenters:
Surface Water Solutions
Educated at the University of California at Berkeley, Krey is a civil engineer and project manager with international experience in water resources. He is engaged in computational modelling, engineeri...
Read more