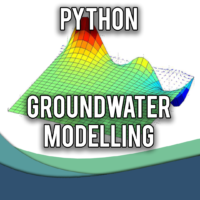 Webinar: Groundwater modelling in Python
Groundwater modelling in Python Live Course coming soon!
How mathematical groundwater models can be implemented in Python
Mathematical models are an essential part of a hydrologist's daily life. This webinar shows how you can use the immensely popular and powerful programming language Python to develop powerful analytical models.

This webinar will be an introduction for a 3-session online course, beginning on the 13th September 2022.
Date: Wednesday, 29 June 2022
Time: 3:00pm (Australia/Sydney; find your local time)
Format: 1 hour webinar
Cost: Free
Resources: Webcasts and other documents will be available here
Register your interest: https://awschool.com.au/training/webinar-groundwater-modelling-in-python/
Presenters:
Edinsi Groundwater & Flinders University
Vincent is a hydrogeologist with over 10 years of experience in Python programming. He uses it on a daily basis for many if not all of his tasks, such as working with logger data, preparation of model...
Read more
Technical University Delft
Mark is a groundwater engineer and a Professor of Groundwater Dynamics at the Technical University in Delft. Mark has taught Python programming and groundwater modelling for over 20 years. He is the d...
Read more