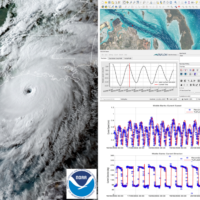 Webinar: Coastal Modelling 101
Oceans, coasts and estuaries - Taking a salty approach to your next project
What happens beyond your downstream tailwater boundary? Take a deep dive into coastal modelling and learn about the modelling of astronomical tidal currents, estuaries, storm tides and ocean scale circulations for common coastal engineering applications.
Date: Wednesday, 19 May 2021
Time: 1:00pm (Australia/Sydney; find your local time)
Resources: Webcasts and other documents will be available here
Register your interest: https://awschool.com.au/training/webinar-coastal-modelling-101/
Presenters:
TUFLOW (BMT)
Mitchell is an Associate Principal Engineer at BMT and leads TUFLOW FV's software development, testing/benchmarking, support and training which most recently has involved delivery of TUFLOW FV's n...
Read more
TUFLOW
Michael has over 25 years' experience working on environmental water quality assessments.  During this time, he has successfully managed and led a wide range of environmental studies in Australia a...
Read more
Resources:
Modelling - general knowledge
19 May 2021
Modelling - general knowledge
19 May 2021
Details:
Sponsored by:

Registrants Locations: 
---