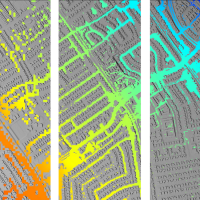 Webinar: The importance of 2D cell size for accurate hydraulic modelling
Learn how to select an appropriate 2D cell size to achieve accurate hydraulic modelling results during your flood and urban stormwater inundation assessments.
This webinar uses a suite of case study examples to highlight how the above factors influence what should be considered an appropriate 2D mesh resolution for a range of catchment scenarios. In doing so it also demonstrates a best practice methodology that should be used by all practitioners at the start of a modelling project when deciding what 2D mesh resolution is necessary.

One size does not fit all. Hydraulic models need to be designed to suit the site-specific topography, hydrology and also study purpose. This webinar steps through a best practice workflow to guide your 2D hydraulic model design and build.

Appropriate 2D cell size selection is necessary to achieve accurate hydraulic modelling results. This webinar will help you make the correct choices.
Date: Wednesday, 18 November 2020
Time: 1:00pm (Australia/Sydney; find your local time)
Format: Up to 1 hour: 30min presentation + 30min Q&A
Cost: Free
Contact: Joel Voortman
Resources: Webcasts and other documents will be available here
Register your interest: https://awschool.com.au/training/webinar-2d-cell-size-for-modelling/
Presenters:
TUFLOW (BMT)
Chris is a principal engineer for BMT (the developers of TUFLOW) with over 15 years' experience in the field of flood / stormwater modelling and floodplain management. Chris currently a senior membe...
Read more
Resources:
Water Modelling & GIS
18 Nov 2020
Water Modelling & GIS
16 Sep 2020
Details:
Selection of the 2D mesh resolution (also referred to as the 2D cell size) is a fundamental decision that is made at the start of all hydraulic modelling projects. The importance of this decision is sometimes not fully appreciated, and in some cases, based entirely on simulation runtime assumptions without consideration of the implications it can have on the overall accuracy of the flood modelling estimations. One size does not fit all! Result sensitivity to mesh resolution is a function of numerous aspects, including: topographic scale considerations, geometric complexity, flow regime and software assumptions. To further complicate matters, what is considered fit for purpose is also influenced by the desired end use of model results.
Sponsored by:

Registrations Locations:
---