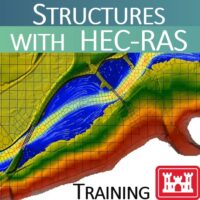 On-demand: Structures with HEC-RAS
Hydraulic modelling of bridges and culverts
(Course Code: OD-21-2-014)

This course covers the incorporation of bridges and culverts into 1D, 2D, and coupled 1D/2D HEC-RAS models.

The course consists of 4-hours of recordings. Build a model with your presenter, Krey Price, a highly experienced HEC-RAS user with extensive software development and lecturing experience. His career includes 15 years of developing hydraulic models for the U.S. Army Corps of Engineers.
Format: 4+ hours of training recordings to step through via the learning platform, with unlimited access for 30-days. Signup for the entire series and you will have 4 months of access to all the courses.
Cost: AUD$395 (includes GST)
Contact: Joel Voortman
Register your interest: https://awschool.com.au/training/structures-with-hec-ras/
Presenters:
Surface Water Solutions
Educated at the University of California at Berkeley, Krey is a civil engineer and project manager with international experience in water resources. He is engaged in computational modelling, engineeri...
Read more
SMEC
Evan is an RPEQ-certified engineer with 17 years of experience in water resources design and civil site construction roles. He has worked on a wide range of projects including hydrological and hydraul...
Read more
Details:
Register for the ENTIRE Training Series (all four courses) and receive a 15% discount.
Topics covered include
Background theory: Energy vs momentum for low flow, pressure flow, and weir flow
The HDS5 approach for culvert design
Background theory: Delineating appropriate upstream and downstream 1D cross sections
Estimating flow separation and expansion/contraction zones for coefficients and ineffective flow areas
Entering bridge geometry for deck, abutments, and piers
Linking a 1D bridge reaches to 2D flow areas
Entering bridges and culverts as internal connections in 2D Flow Areas
Introduction to bridge scour for piers and abutments
Format, this course is designed with:
20+ units to complete consecutively via the AWS learning platform,
The course includes 4+ hours of training recordings, across 2 parts,
Pre-and-post-course materials to go through via this learning platform,
Exercises to follow through via a training manual, between the 2 parts of the course,
You will have unlimited access to all the course materials for 30 days or signup for the entire series and you will have 4 months of access to all the courses
Preparation

:
Pre-course reading and video watching is encouraged. There is also an opportunity to tailor the sessions to your direct questions via the initial survey. After the first week you will be given some exercises to complete, prior to the next session.
What's Included
The HEC-RAS Training Series is designed to be taken individually. Each course is highly practical and hands-on ie; not simply a PowerPoint of lectures.
To provide the best desired learning outcomes, setup in a quiet space with dual monitors (ie one screen with the session and the other with the software/exercise that attendees can work on simultaneously). The courses are not designed for a board-room setup.
x2, 2-hour sessions and the recordings to view as many times as required in a month;
Signup for the entire series and you will have 4 months of access to all the courses;
Ability to ask questions to the presenters through the learning platform;
PDF manual of the course. The manual is recommended for ongoing use;
Working models, downloaded from the learning platform before starting the course;
Exercises / homework to complete between sessions;
Pre-reading and viewing materials;
Ability to access all the online course materials for a month. The pre-readings and manual are available for ongoing learning;
Attendees earn 4 CPD hours/points (ie with Engineers Australia), 40+ hours for the Series.
Requirements: A good internet connection and the latest version of HEC-RAS. Please note: HEC-RAS Version 5.0.4 and newer will only run on 64-bit Windows operating Systems (including 64-bit versions of Window 7, 8.0, 8.1 and 10). Make sure your operating system is up-to-date with all Microsoft patches for your version, before trying to install HEC-RAS.
Completion: On completion of the course attendees will be issued with a Certificate of Participation.