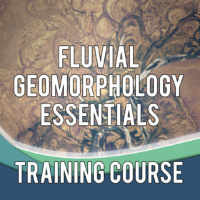 Live course: Fluvial Geomorphology Essentials
Learn the basics of fluvial geomorphology, focussing on infrastructure crossings
(Course code: LC-22-3-035)

In this three-session course, you will learn the fundamentals of geomorphology, building on knowledge gained from our 'Geomorphology 101' Webinar. This course will be highly practical and includes a 'virtual' field trip visiting carefully selected case study sites and also physical model simulations to apply the knowledge taught to real-world situations.

Highly respected industry experts from leading consultancies will guide you through each session.
- Session 1, Thurs 7th July 10am -12pm - Fluvial geomorphology fundamentals
- Session 2, Thurs 14th July 10am -12pm - Interpreting hydraulic/hydrologic model results for geomorphic analysis
- Session 3, Thurs 21st July 10am -12pm - Geomorphology, Crossings and Infrastructure

Date: Thursday, 7 July 2022 - Thursday, 21 July 2022
Time: 10:00am (Australia/Sydney; find your local time)
Location: Online
Format: x3, 2hour live training + recordings; pre and post course materials to go through via the learning platform
Cost: $595.00 (INC GST)
Contact: Joel Voortman
Register your interest: https://awschool.com.au/training/fluvial-geomorphology-essentials/
Presenters:
Details:
Rivers change continuously. Fluvial Geomorphologists use landscape interpretation skills to understand form and process, both historically and into the future.  In this 3-part course, attendees will build on knowledge gained from our Geomorphology 101 webinar. In the first session you will dive into the Geomorphology deep-end.
Key application areas such as understanding geomorphological values and concepts such as dynamism and upstream-downstream processes will also be covered by our expert presenters.
In the second session, attendees will learn how to interpret hydraulic/hydrologic model results for geomorphic analysis using models such as HEC-RAS, TUFLOW, MIKE, 3D models, build an appreciation for the benefits of using models, understand some of the pitfalls of over-reliance on their outputs, and hear about their application from an engineer's perspective.
The third session will involve a virtual field trip applying the tools and perspectives.

Course Overview
Session 1 | 7th July 2022, 10am – 12pm, Sydney time
Fluvial Geomorphology Fundamentals – Led by Mick Cheetham
Complex response and equilibrium
Physical model visualisations
Session 2 | 14th July 2022, 10am – 12pm, Sydney time
Interpreting Hydraulic/Hydrologic Model Results for Geomorphic Analysis – Led by Ben Pearson
Types of models
Use of hydraulic models in geomorphology
Session 3 | 21st July 2022, 10am – 12pm, Sydney time
Geomorphology, Crossings and Infrastructure – Led by Julian Martin and Andy Markham
Crossing types and examples
Materials and techniques
Case studies – bridge stability and adjacent infrastructure – including short virtual field trip
Format
This course is designed with:
6+ hours of live sessions and recordings with unlimited access for 30-days after the last live session
Units to complete consecutively via the AWS learning platform
Pre-and-post-course materials to go through via the AWS learning platform
Ability to ask questions to the presenters at anytime in the live sessions and through the learning platform
Homework to follow through the learning platform, between the sessions
You will have unlimited access to all the course materials for one month after the final live session.
Attendees earn CPD hours/points (ie with Engineers Australia) for at least 10+ hours for the entire course
The sessions are recorded & uploaded to the learning platform if you cannot attend live.
Preparation
There are readings before the live sessions (provided through the learning platform), with some videos to watch as introductory background. There is also an opportunity to tailor the sessions to your direct questions, via the initial survey. The learning platform will also include a folder of approximately 20 reading materials to view after the session.
Requirements
A good internet connection, a mic and a webcam are encouraged to allow for live interaction in the Q&A times. The Zoom platform is used, you can test your internet connection, download and install the launcher now using this test meeting: https://zoom.us/test
Completion
On completion of the course attendees will be issued with a Certificate of Participation.