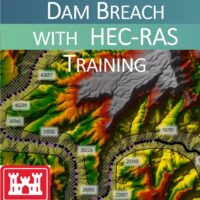 On-demand: Dam Breach with HEC-RAS
Modelling dam breaches and downstream impacts
(Course Code: OD-21-3-020)

Recent dam failures and updated guidelines highlight the need for continuing education around the governing principles of dam breach analyses. Ongoing improvements in both hardware and software allow increasingly detailed models that still require proper input selection to provide meaningful results that improve public safety.

In this course you will learn to build, run, and animate dam breach models from scratch using the free HEC-RAS software. Consisting of three, two-hour interactive mentoring sessions over a three-week period, you will be provided with the unique opportunity to ask questions as you build a model alongside your expert presenters.
Format: x3, 2hour recordings + pre and post course materials to go through via the learning platform with unlimited access for 30-days. Signup for the entire series and you will have 4 months of access to all the courses.
Cost: AUD$495 (includes GST)
Contact: training@awschool.com.au
Register your interest: https://awschool.com.au/training/dam-breach-with-hec-ras/
Presenters:
Surface Water Solutions
Educated at the University of California at Berkeley, Krey is a civil engineer and project manager with international experience in water resources. He is engaged in computational modelling, engineeri...
Read more
Kleinschmidt Associates
Chris is the Principal Consultant for Hydraulics and Hydrology at Kleinschmidt Associates. Chris specializes in water resources hydraulic engineering. He has a background in both hydraulic design and...
Read more
Details:
Register now for the ENTIRE Training Series (all four courses) and receive a 15% discount.
Or register now for this individual course.
Format
The course is delivered through 12 units via the learning platform
3 x recordings of 2 hours each
Workshop guide manual and example data files to complete exercises
Pre-and-post-course materials to go through via the learning platform
Unlimited course access for 30-days or signup for the entire series and you will have 4 months of access to all the courses.
Topics covered include
1D vs 2D vs 3D theory for dam breach
Level pool vs. dynamic reservoir drawdown
Adding a dam as a 1D reach or inline structure
Selecting dam breach parameters
Setting up and running a dam breach model
Diagnosing and troubleshooting a dam breach model
Model calibration and sensitivities
Exporting inundation and flood wave arrival results
Preparation:
Pre-course reading and video watching is encouraged.
What's Included
The HEC-RAS Training Series is designed to be taken individually. Each course is highly practical and hands-on ie; not simply a PowerPoint of lectures.
To provide the best desired learning outcomes, setup in a quiet space with dual monitors (ie one screen with the session and the other with the software/exercise that attendees can work on simultaneously). The courses are not designed for a board-room setup.
x3, 2-hour sessions and the recordings to view as many times as required in a month;
Signup for the entire series and you will have 4 months of access to all the courses;
PDF manual of the course. The manual is recommended for ongoing use;
Working models, downloaded from the learning platform before starting the course;
Exercises / homework to complete between recordings;
Pre-reading and viewing materials;
Ability to access all the online course materials for a month. The pre-readings and manual are available for ongoing learning;
Attendees earn 9+ CPD hours/points (ie with Engineers Australia), 40+ hours for the Series.
Requirements: A good internet connection and the latest version of HEC-RAS. Please note: HEC-RAS Version 5.0.4 and newer will only run on 64-bit Windows operating Systems (including 64-bit versions of Window 7, 8.0, 8.1 and 10). Make sure your operating system is up-to-date with all Microsoft patches for your version, before trying to install HEC-RAS.
Completion: On completion of the course attendees will be issued with a Certificate of Participation.
Frequently Asked Questions (FAQ)
Images from the course: