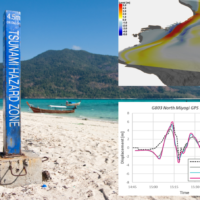 Webinar: Tsunami and dam failure modelling
Learn how to model these high shock situations with confidence.
Tsunami and dam failure events result in extremely transient, dynamic flood behaviour. While all 2D solvers can produce convincing results, not all 2D solvers are accurate. Engineering is not art, so accuracy is paramount.
Date: Wednesday, 15 September 2021
Time: 1:00pm (Australia/Sydney; find your local time)
Resources: Webcasts and other documents will be available here
Register your interest: https://awschool.com.au/training/webinar-tsunami-and-dam-failure-modelling/
Presenters:
BMT
Greg is Team TUFLOW's senior GPU code developer and has over 25 years' experience in writing scientific modelling software. He has degrees in both mechanical engineering and theoretical physics, b...
Read more
TUFLOW
Shuang Gao is an Environmental Engineer and software developer. He currently works at BMT's Brisbane office on the development and testing of the TUFLOW software suite, a set of shallow water equati...
Read more
Details:
Sponsored by: