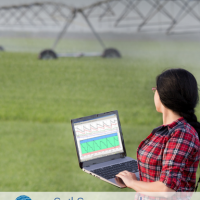 Webinar: Soil moisture sensors for greater insights into crop-water-soil dynamics
Measured insights from: Soil - Water - Plant - Atmosphere Dynamics
How soil water and weather data are now used for management and research in plant production and hydrology.
Date: Thursday, 21 September 2017
Contact: Trevor Pillar tpillar@awschool.com.au
Resources: Webcasts and other documents will be available here
Register your interest: https://awschool.com.au/training/webinar-soil-water-dynamics-using-wireless-sensors/
Presenters:
Sentek Pty Ltd
Peter Buss has 31 years professional experience with on-farm irrigation management and is currently managing the R&D team of Sentek developing new water management technologies. He is also consul...
Read more
Resources:
21 Sep 2017
17 Sep 2017
Details:
Attendees Registration Map
---