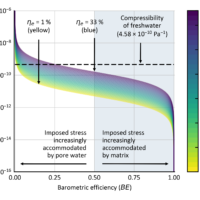 Webinar: Groundwater time series analysis
A demonstration of how the HydroGeoSines package for Python can be used to obtain additional insights from existing groundwater hydrograph data
In this webinar our expert presenters will demonstrate the newly-developed HydroGeoSines package for Python that allows an easy way to pre-process and interpret standard groundwater monitoring datasets. This includes the removal of barometric pressure and Earth tide effects, while characterising aquifer types using Barometric Efficiency values and Barometric Response Functions. Attendees will also gain insights into the software's other features, including estimating aquifer properties such as hydraulic conductivity and specific storage from time series data alone.

Further content under details below.
Date: Wednesday, 9 March 2022
Time: 4:00pm (Australia/Sydney; find your local time)
Cost: Free
Contact: Joel Voortman
Resources: Webcasts and other documents will be available here
Register your interest: https://awschool.com.au/training/webinar-groundwater-time-series-analysis/
Presenters:
CSIRO
Chris is an Adelaide-based hydrogeologist in Land and Water's Regional Scale Groundwater Analysis team. His research primarily involves the characterisation of various aspects of regional-scale ground...
Read more
Karlsruhe Institute of Technology
Gabriel is a PhD qualified geo-environmental scientist and engineer with advanced expertise in hydrogeology. His passion lies in designing specialist field and laboratory experiments, acquiring, compi...
Read more
Details:
How to automate pre-processing tasks, including resampling measurements to a consistent time step, and using interpolation methods for gap filling;
How to remove the effects of barometric pressure and Earth tides, as performed previously by software such as BETCO;
How to use a range of methods to identify aquifer confinement types from groundwater responses to Earth tides;
How to use a range of methods to estimate the specific storage of confined aquifers from groundwater responses to Earth and atmospheric tides; and,
How to estimate aquifer hydraulic conductivity from groundwater responses to Earth tides.