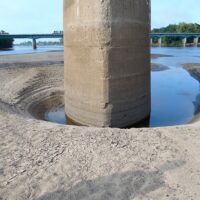 Webinar: Estimating bridge hydraulics and scour
Best practice techniques and engineering practices for estimating bridge hydraulics and scour depths around piers and abutments.
We will discuss extracting hydraulic modelling results from 1D, 2D, and 3D models for use in empirical equations and we'll cover a range of approaches for determining pile depths, toe-down requirements, and other design factors influenced by scour predictions.
Date: Wednesday, 2 June 2021
Time: 9:00am (Australia/Sydney; find your local time)
Resources: Webcasts and other documents will be available here
Register your interest: https://awschool.com.au/training/webinar-bridge-scour/
Presenters:
Natural Waters
Casey Kramer is a recognized expert in the fields of hydrology, hydraulics, scour, river engineering, sediment transport and fish passage, while specializing in the hydraulic design of transportation ...
Read more
Surface Water Solutions
Educated at the University of California at Berkeley, Krey is a civil engineer and project manager with international experience in water resources. He is engaged in computational modelling, engineeri...
Read more