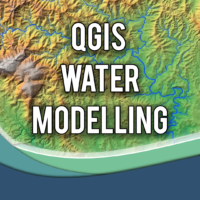 On-demand: QGIS for water modelling
Use QGIS in catchment and stream delineation for adding and visualising hydrological data.
(Course Code: OD-21-2-011)

Take sessions anytime, at your own pace with unlimited course access for 30-days.

Learn how to apply free GIS applications and plugins to aid the development and animation of hydrologic and hydraulic models. The course consist of over 4 hours of content, split into short video steps. There is also pre and post course materials to develop and solidify your learning.
Cost: AUD$295 (includes GST)
Contact: Joel Voortman
Register your interest: https://awschool.com.au/training/on-demand-qgis-for-water-modelling/
Presenters:
IHE Delft Institute for Water Education
Hans van der Kwast is a Senior lecturer in Geographic Information Systems & Spatial data management at IHE Delft Institute for Water Education. Hans holds a PhD in Physical Geography. During his p...
Read more
Septima
A former archaeologist and ex-GISP, Kurt Menke is a geospatial generalist based out of Frederiksværk, Danmark. He received a Master's degree in Geography from the University of New Mexico in 2000. ...
Read more
Details:
This course is designed to be highly practical consisting of two main sessions, split up into over 25 short video units. Build a catchment and stream delineation model step by step alongside your presenter using QGIS and other tools. You will then run, animate, interpret and troubleshoot your model.
Course Contents:
QGIS and Catchment Delineation
Learn the generic workflow for stream and catchment delineation for areas where only open data is available. Start with the theory covering the concepts, followed by practical exercises in QGIS. You'll learn to:
Find and download SRTM DEM tiles
Mosaic, reproject and subset the DEM
Hydrologically correct the DEM by filling the sinks
Calculate and visualise the flow direction layer
Delineate streams using the Strahler order method
Delineate the catchment of a specific outflow point
Evaluate the results
QGIS and Visualisation of Data
The starting point for the second half of the course will be from the completion of a catchment delineation analysis. Learn how to take the final data and make a beautiful map showcasing the results. Starting with some symbology tricks, you will then learn the basics of setting up a print composition with standard map elements such as a scale bar, north arrow, legend and locator map.
By the end of this course you will have produced an attractive map of the catchment in QGIS and learned some tricks along the way, including:
Styling DEMs, rivers, catchments and landmarks
Adding Labels
Focusing attention on the catchment
Setting up a basic print layout
Adding standard map elements
Using Expressions to enhance the layout
Adding a locator map
Exporting the final product
Format: 
The course is delivered through 34 units via the learning platform
Pre-and-post-course materials to go through via the learning platform.
Exercises between the two sessions.
Manual of the course and working model download/s.
Ability to access all the online course materials for up to 30-days. The pre-readings/videos and manual are available for ongoing learning.
Requirements: A good internet connection and software and downloads as described in the learning platform.
Outcome: On completion of the course attendees will be issued with a Certificate of Participation.
Previous attendees comments:
"The presenters were very high quality, very relevant, very useful."
"The course was well taught overall. A good overview & introduction into a large body of knowledge. Thank you."
"Everything was useful since I haven't not used QGIS before. I found the use of rasters really useful. Also, I was needing a hand on creating the map layout. It was great!"
"Very well designed course, well prepared materials, and heaps of extra resources- very happy with that."
"I found going through the all the exercises together was very useful. It has become really easy to replicate what I learnt in the session for my projects."
Images from the course:
| | |
| --- | --- |
| | |
| | |