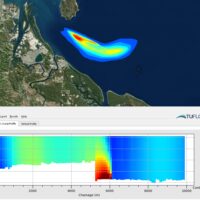 Webinar: Coastal Water Quality Modelling 101
Making the most of our coast whilst minimising impact: 3D water quality and environmental modelling applications
This webinar builds on the previous webinars, AWS Coastal Modelling 101 (May 2021) and 3D Coastal Modelling (March 2022). This webinar, the third in the series investigates a range of environmental/water quality modelling applications run in concert with 3D hydrodynamic modelling.

Many situations can benefit from water quality modelling to inform decision making. Some examples include, port developments requiring dredging and dredge spoil disposal, desalination plant or wastewater treatment plant effluent ocean outfalls, invasive aquatic species investigations, grounded ships leaking toxic material and more.

What is the likely transport of contaminants under different meteorological, tide and ocean conditions? Do we expect environmentally sensitive areas to be affected? Can we improve our project design, monitoring, operation, or maintenance to minimise potential impacts? These are a small, but important sample of common environmental and water quality questions that we as scientists, engineers, researchers, managers, and regulators face on a regular basis when working in the coastal zone.

Please join Dr Michael Barry and Mitchell Smith, two of the lead TUFLOW FV developers, as we explore several sediment transport, advection dispersion, water quality and particle tracking modelling approaches; which collectively help support evidence based decision making in the aquatic environment.
Date: Wednesday, 18 May 2022
Time: 1:00pm (Australia/Sydney; find your local time)
Resources: Webcasts and other documents will be available here
Register your interest: https://awschool.com.au/training/coastal-water-quality-modelling/
Presenters:
TUFLOW
Michael has over 25 years' experience working on environmental water quality assessments.  During this time, he has successfully managed and led a wide range of environmental studies in Australia a...
Read more
TUFLOW (BMT)
Mitchell is an Associate Principal Engineer at BMT and leads TUFLOW FV's software development, testing/benchmarking, support and training which most recently has involved delivery of TUFLOW FV's n...
Read more
Details:
Sponsored by: