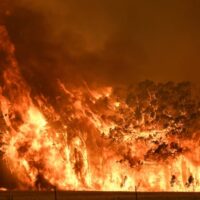 Webinar: Fired up! Bushfire hydrology
Impacts on catchment hydrology and aquatic fauna
#125

Bushfires can have a tremendous impact on a catchment's response to rainfall. High intensity fires can alter the structure and erosivity of the soil, increasing turbidity in the streams while the loss of shade increases water temperature. In the face of climate change, the increasing severity of bushfires should be incorporated in modelling and design exercises.

Which parameters should be adjusted in hydrologic and hydraulic models? How should spillways, culverts, and other hydraulic structures be designed for increased resilience to bushfire impacts?

Join us for this webinar in which expert presenters will demonstrate impacts of historical events and likely trends for future assessments. The webinar will include the impacts of the recent 2019-20 fires in Australia on in-stream fauna, supported by lab studies showing adapting tolerance to warmer temperatures and reduced oxygen levels in the presence of post fire ash and sediment.
Date: Wednesday, 3 November 2021
Time: 11:00am (Australia/Sydney; find your local time)
Resources: Webcasts and other documents will be available here
Register your interest: https://awschool.com.au/training/bushfire-hydrology/
Presenters:
Resources:
Water quality
3 Nov 2021
Details:
Photograph: Dan Himbrechts/EPA
Rebecca Cramp presentation synopsis:
Substantial changes to the aquatic environment following severe bushfires can include the loss of riparian vegetation leading to increased aquatic temperatures, hypoxia, changes in light levels and the input of ash and sediment that can release nutrients and toxicants into the water. However, we currently have little understanding of the tolerances of aquatic fauna to such changes in water quality. Consequently, our recent work examined how a number of Australian freshwater fish, frogs and invertebrates are affected by acute and chronic exposure to post-fire water quality changes such as elevated temperatures, low oxygen levels and ash and sediment run-off.
FINDINGS FACTSHEET: The impacts of bushfire ash and sediment on freshwater fauna, TSR Hub 2021
REPORT: Impacts of post-fire ash and runoff sediment on the physiological tolerances of Australian freshwater aquatic fauna, Rebecca Cramp, Callum Mulvey, Jarrod Cameron, Matthew Wintour, Daniel Gomez Isaza and Craig Franklin, May 2021
REPORT: Summary of the 2019/20 bushfire impacts on freshwater fish and emergency conservation response in south-eastern Australia, J.J. Shelley , T.A. Raadik and M. Lintermans, August 2021
Registration locations:

---