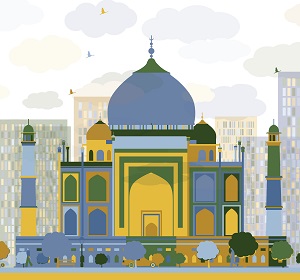 Online Briefing: Access to water sector opportunities in India
Unique insight into working with India
You have been invited to join this private briefing to gain unique insight into accessing water business opportunities in India and the essential pathways to approach the market.
Trade Commissioner for South India, Munish Sharma, will provide a 10 minute presentation followed by a panel discussion with industry experts, including:

• Challenges within Indian water sector and real opportunities for Australian businesses
• Procurement and tendering process guidelines
• Market entry strategies and model of collaborations
• Risk associated with doing business and mitigation strategies
• Cultural sensitivities and stakeholder management
• Importance of building business relationship and visit to market


Date: Tuesday, 13 August 2019
Time: 1:30pm (Australia/Adelaide; find your local time)
Format: 10 min presentation and 30 min Q & A
Cost: Free
Chair: Darryl Day
Contact: hpadale@awschool.com.au
Resources: Webcasts and other documents will be available here
Register your interest: https://awschool.com.au/training/access-to-water-sector-opportunities-in-india/
Presenters:
Resources:
Details:
Background
India has emerged as the fastest growing major economy in the world and is expected to be one of the top three economic powers of the world over the next 10-15 years, backed by its strong democracy and partnerships. India's GDP is estimated to have increased 7.2 per cent in 2017-18 and 7 per cent in 2018-19.
India has retained its position as the third largest start-up base in the world with over 4,750 technology start-ups. India's labour force is expected to touch 160-170 million by 2020, based on rate of population growth, increased labour force participation, and higher education enrolment.
Water Sector Overview
Rapid urbanisation and dwindling fresh water reserves have stimulated a renewed focus on India's water sector, and the country is looking at ways to address issues of water quality and availability. Multilateral agencies like the World Bank and the Asian Development Bank (ADB) are supporting the federal and state governments to help improve the water situation and drive water sector reforms.
The Indian industrial water and waste water market is going through a shift with recycling and reuse, zero liquid discharge, and online effluent quality monitoring systems becoming mandatory across industries. Recycling and reuse of water has been made mandatory for industries and housing projects in some states. Industries across power, food and beverage, pharmaceuticals, refineries and textiles and other sectors are gearing to meet stringent pollution norms, leading to increased demand for reliable water and wastewater treatment technologies.
The Indian water resources management and wastewater market has great potential over the coming years with significant amounts of Indian Government spending for various initiatives which includes, National Hydrology Project, Clean Ganga Mission, Smart Cities Projects, Urban Water Missions.
The opportunities for technological and knowledge intervention in the Indian water sector can classified in four broad categories
Water Resources Management
Water Measurement and Quality
Water and Waste water Treatment
Water Conservations
Technologies and consulting solutions within areas smart metering, SCADA, monitoring, sensors, flow control, large pipeline projects, monitoring stations, decentralised treatment solution, water bodies remediation, smart irrigation systems, aquifer recharge and ground water management solutions represent huge potential in the India.
Who should attend
Australian businesses in:
Design and Engineering consulting services
Innovative and smart technologies suppliers to improve decision making
Maintenance and repair service providers
Water and wastewater treatment solutions
Water recycling and distribution technologies
Smart meters solution providers.
Water bodies remediation solution providers
Hydraulic designs and solutions
Industry training providers
---