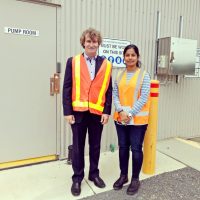 Webinar: India-Australia Perspectives on Water Management
RACE WaRM Fellows strengthen sister-state relationship with South Australia
This is the Webinar to attend if you have an interest in water management in India.
7 Fellows from Rajasthan, India, have been participating in a 6-week intensive research program in Adelaide. Hear about their key findings around water management aspects including: system modernization, water and energy, low-cost RO from groundwater sources, detection of microbes, defluoridation, water policy in India, shift in trends of Rajasthan rainfall data, reducing non-revenue water.
Date: Thursday, 14 December 2017
Contact: Trevor Pillar tpillar@awschool.com.au
Resources: Webcasts and other documents will be available here
Register your interest: https://awschool.com.au/training/webinar-india-australia-perspectives-water-management/
Resources:
Technology & Innovation
14 Dec 2017
Details:
This programme has been funded by the Australian Government's Australia India Council grants program, the WaRM Trust grant and the Department of State Development (DSD).
Miss Neelam Golchha and Miss Bhavana Kanwa, Masters students from Malaviya National Institute of Technology (MNIT) and Dr Dinesh Periwal, Mr Niril Kumar and Mr Shrivastava Keshava, from Rajasthan's Public Health and Engineering Department (PHED), have been based at the South Australian Water Corporation (SA Water).
Mr Jitendra Dixit and Mr Pankaj Munjal, from Rajasthan's Water Resources Department have been hosted by the Department of Water and Natural Resources (DEWNR)
The program is designed to promote people-to-people links and support for the Australian Government's international policy goals through increased understanding of the cultures and opportunities in each of these countries.

"South Australian Rajasthan Water Management Fellowship" received grant funding from the Australia-India Council of the Department of Foreign Affairs and Trade.
Registrations Map: 
---