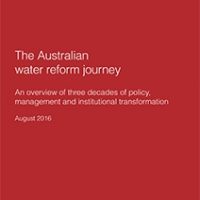 Webinar: Water Reform in Australia
Is Australia about to walk away from water reform? See PDF background article below for further details.
Date: Thursday, 28 September 2017
Resources: Webcasts and other documents will be available here
Register your interest: https://awschool.com.au/training/water-reform-australia/
Presenters:
Australian National University
Dr John Williams grew up near Tumbarumba on a farm in the Snowy Mountains region of New South Wales. He graduated from the University of Sydney with a degree in agricultural science and a doctorate in...
Read more
Resources:
Details:
Background Article by Dr John Williams – from BRIDGING Newsletter of the Peter Cullen Trust.
Attendee Registrations MAP

---