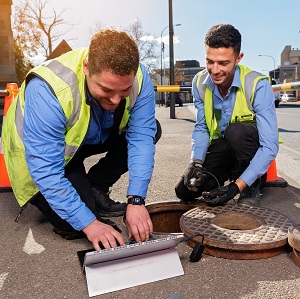 Webinar: Smart technologies improving water services
SA Water's Smart Network is forging a new path for managing underground infrastructure
SA Water's world-leading smart network integrates advanced analytical, digital and smart technologies, evolving their approach to managing its water and wastewater assets. Recognised globally for their innovative project, deploying the smart network is driven by their desire to improve customer experience and better understand its underground systems.
Date: Tuesday, 20 August 2019
Time: 2:00pm (Australia/Sydney; find your local time)
Format: 60 minutes total time for Presentation, Discussion and Q&A.
Cost: Free
Chair: Trevor Pillar, National Partnerships Manager
Contact: training@australianwaterschool.com.au
Resources: Webcasts and other documents will be available here
Register your interest: https://awschool.com.au/training/smart-technologies-improving-water-services/
Presenters:
SA Water
As the Senior Manager of Asset Management at SA Water, Peter leads the operational and capital investment planning for South Australia's largest water utility, managing $14 billion of infrastructure...
Read more
Resources:
---