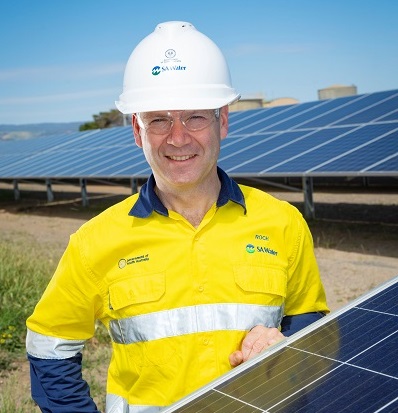 Webinar: Powering toward a zero-cost energy future
An update on SA Water's ambitious goal of achieving zero net electricity costs from 2020.
SA Water's Chief Executive, Roch Cheroux, explained how the goal of a zero cost energy future will neutralise one of its largest operating costs. South Australia's largest provider of water and sewerage services is leading the way by increasing its renewable energy generation and storage, driving energy efficiencies and making smart decisions around its electricity usage and procurement. These investments will help deliver low and stable prices for its customers.

Date: Wednesday, 10 April 2019
Time: 1:30pm (Australia/Adelaide; find your local time)
Format: Presentation, Discussion + Q&A (up to 60mins)
Cost: Free
Chair: Trevor Pillar, National Partnerships Manager
Resources: Webcasts and other documents will be available here
Register your interest: https://awschool.com.au/training/powering-the-way-to-a-zero-cost-energy-future/
Presenters:
SA Water
Roch is leading the transformation of South Australia's largest water utility to embed technology, culture and systems changes to deliver improved experience for the corporation's 1.7 million cust...
Read more
Resources:
Details:
Registrants Locations

---