Basant Maheshwari - Australian Water School
05/12/2023
Western Sydney University
Basant Maheshwari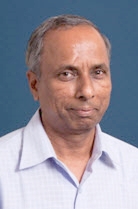 Prof Basant Maheshwari's research focusses on water and its interactions with the landscape. This includes modelling and analysing the water cycle for long-term water resource planning at a regional level. It also aims to understand the implications of social, economic, cultural, policy and institutional aspects of water cycle management.
Engagement with community, government agencies and other stakeholders is a key aspect of Basant's work addressing significant local water issues. This includes instrumentation of the watershed, community and school engagement and working with government agencies and policy makers.
Basant has a B E. in Agricultural Engineering, M.Eng. in Soil & Water Engineering and a PhD in Water Resources Management.
Courses involved in:
Visit organisation website
Contact Us: +61 8 7424 2294 | training@awschool.com.au
awschool.com.au/presenters/prof-basant-maheshwari/