Graham Dooley - Australian Water School
06/12/2023
Water Utilities Australia
Graham Dooley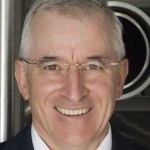 Graham is the CEO and Director of Water Utilities Australia Pty Ltd (WUA).
– He's a thinker.
– He is a relentless advocate for a genuine Australian water industry/
– He can be controversial.
– He gets things done.
All of this is underpinned by vast leadership experience and achievement in both Government and private sectors.
He has 20 years' experience in the public sector and 25 years' experience in the private sector, in water, electricity, bulk materials (grain) and railway infrastructure.
Graham has held non-executive roles with the Blue Sky Group, including chair of Water Utilities Australia Group.
He established and was the managing director of United Utilities Australia (now Trility) from 1991-2007.
Graham is a past national President of the Australian Water Association, a Fellow of the Australian Institute of Company Directors and a Fellow of the Institution of Engineers, Australia.
Courses involved in:
Visit organisation website
Contact Us: +61 8 7424 2294 | training@awschool.com.au
awschool.com.au/presenters/graham-dooley/