News posts tagged "Mike Young"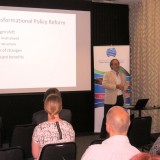 Wednesday, 26 November, 2014
Professor Mike Young's presentation on Transformational Environmental Policy Reform was well received by all those who attended.
Monday, 14 December, 2009

ICE WaRM has continued its extensive support for water sector research and training by sponsoring the Best Paper Prize at Engineers Australia's 32nd Hydrology and Water Resources Symposium in Newcastle, New South Wales. This year's  theme was "Adapting to Change".