News posts tagged "International Programmes"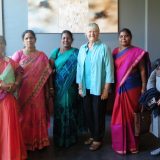 Thursday, 25 January, 2018
ICE WaRM has welcomed our first of four Australia Awards Fellowship groups for 2018, to Australia. Arriving from the states of Andhra Pradesh and Telangana in India, the group of 14 water professionals are here to better understand Australia's irrigation technologies.
While gender inequality continues to be a major issue in India, ICE WaRM is extremely pleased that five of the water professionals in the group are women.