The Wonders of the Coorong
Wednesday, 15 May, 2019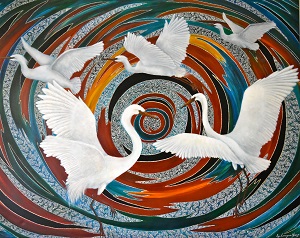 ICE WaRM has proudly supported the City of Salisbury Watershed Art Prize for the 11th year running by sponsoring the 2019 winning prize of $5000, which was presented to the winner on 3 May by ICE WaRM's Managing Director, Darryl Day.

Salisbury's Mayor, Gillian Aldridge OAM, graetfully acknowledged ICE WaRM's support as principle sponsor of the South Australian event which raises awareness of the value of water throughout the community.
ICE WaRM has collaborated with the City of Salisbury and Salisbury Water by facilitating field visits to the world-famous Greenfields Wetlands and the innovative Watershed Sustainability Centre and by providing webinars on resilience and liveability, showcasing South Australia as a leader in water management.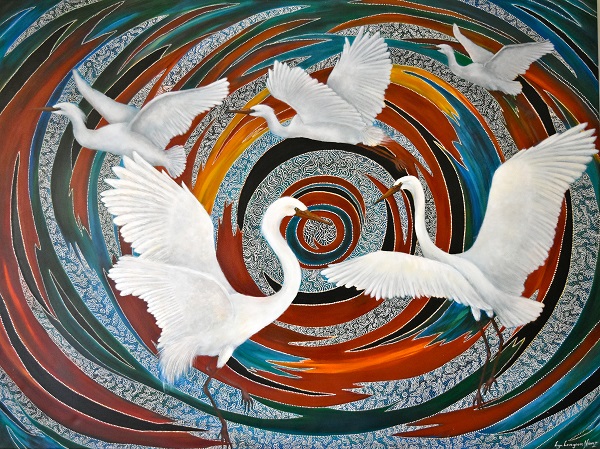 This year's winning submission, "The Wonders of the Coorong", is an acrylic painting by artist Lyn Lovegrove Niemz whose cultural background includes Ngarrindjeri, the traditional Aboriginal people of the lower Murray River, western Fleurieu Peninsula, and the Coorong of southern central Australia. Lyn's art is influenced by her Ngarrindjeri culture.
"I am thrilled that my work has won in the same division as everyone else rather than being judged as an Aboriginal artist in a separate category," says Lyn.
"The Wonders of the Coorong" is an aerial view of land and water with five native Egrets from the region circling above. It depicts the importance of water conservation and preservation of those waterways which the people and wildlife depend upon.
"I try not to get too involved with the politics of our past but we mustn't forget what our old people went through so we can appreciate the lives we have now. My work is about reconciliation. Our past is part of our future and all my art includes an element of culture."
Lyn, who is also a potter, wants people to know how diverse indigenous art can be and that art represents the Aboriginal people in a positive way. She wants to share the positive stories so that young people can be proud of their culture and background.
Having lived her childhood in the country, Lyn knows firsthand how precious water is and has decided to use some of her prize money to buy herself another rainwater tank.
Lyn acknowledges the wonderful work that the City of Salisbury is doing in wetland conservation and recycled water management, which reduces the demand on existing water resources such as the Murray River and the Adelaide Hills Water Catchment.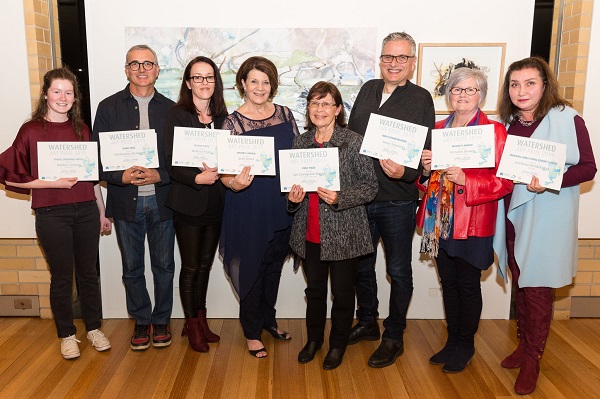 ICE WaRM congratulates all the amazing artists who gave a voice to the value of water and the importance of water conservation, through their art.
Once the exhibition at the John Harvey Gallery concludes in June, "The Wonders of the Coorong" will hang in the ICE WaRM office along with Watershed Art Prize winners from previous years. We expect this piece will be quite a talking point for our local and international visitors who visit ICE WaRM.
You can read more about Lyn and her work here.
Ngarrindjeri Culture
City of Salisbury
City of Salisbury Watershed Art Prize