Water Management Newsletter: July 2016
Friday, 29 July, 2016
If you hear a voice within you say "you cannot paint," then by all means paint and that voice will be silenced.
Vincent Van Gogh 1853 – 1890
ICE WaRM's
Water Management Newsletter gathers the work of inspiring, dedicated water professionals who are making a difference globally. Your suggestions are welcome in this endeavor, please send to: 
tpillar@awschool.com.au
This Month:
---
ICE WaRM hosts India's Federal Secretary of Water: 18 – 26 June 2016
One of India's highest level government water officials was hosted by ICE WaRM on a Study Visit to Australia for one week. The delegation included: Shri Shashi SHEKHAR, Secretary, Ministry of Water Resources, River Development and Ganga Rejuvenation. Shri Radhey Shyam JULANIYA, Assistant Chief Secretary (Water Resources), Government of Madhya Pradesh
The Study Visit included site inspections and high-level meetings with key water people including SA's Water Minister Ian Hunter and BoM in Melbourne. It was a tight schedule that included the Murray Mouth, Groundwater interception schemes along the River Murray, Shepparton and Loxton irrigation sites.
Issues addressed during their visit included:
1.   Water reform and policy development – District, State and Centre perspectives
2.   Trans-boundary water management and institutional operation for collaboration across a basin
3.   Water data management for policy and planning including the use of basin and river modelling
4.   Capacity building in water management
5.   Stakeholder and industry involvement
6.   Groundwater management (and its inter-relationship with surface water)
7.   Urban and industrial water management and treatment
8.   Water recycling, aquifer storage and recovery, drought management to support efficient water use
9.   Water allocation regimes to support the most valuable use of water
10. Managing environmental flows and their importance for healthy working rivers
11. Irrigation practices including the use of modern technologies to measure and manage soil moisture and water delivery
12. Dry-land farming practices to support improved yield through water use efficiency

From left to right: Dr Ian Reid ICE WaRM; Shri Shashi SHEKHAR Fed Water Sec; Hon Ian Hunter SA Water Minister; Shri Radhey Shyam JULANIYA Assist Chief Sec Water Resources Madhya Pradesh; Tim Goodes Group Executive Director Strategy and Advice DEWNR
---
ICE WaRM hosts Chilean Water Group (JVRC): 3rd – 11th June 2016
ICE WaRM hosted the Study Visit to Australia of eleven Chileans, visiting Canberra, Adelaide, Loxton and the Murray Mouth.  The group are members of the Junta de Vigilancia del Río Copiapó (JVRC) -ie the Supervisory Board for the River Copiapó in Chile. They are Research Scientists, Engineers, Agriculture Technicians and Business Leaders.
The Study Tour was instigated by JVRC who approached CSIRO, a close associate of ICE WaRM on international activities.
Meeting with senior staff at MDBA, CSIRO, DEWNR, Rural Solutions SA and Primary Industries and Regions SA, the group were on a mission to study water efficiencies that could be applied in Chile.

They travelled to Murray Mouth/Lower Lakes region, a RAMSAR Site, Loxton Research Centre and met with many of our top policy makers, managers and innovators here in Australia including Karlene Maywald (ICE WaRM Chairman); CSIRO'sWarwick McDonald, Peter Wallbrink, Francis Chiew; MDBA's David Dreverman, Bruce Naumann at Salisbury Water (see pic above); Dan Jordan at Water and Climate Change SA; Brett Kennedy and Daniel Casement Rural Solutions SA, Primary Industries and Regions SA; Glenn Shimmin at DEWNR's River Murray Operations and Major Projects Branch.
They came to Australia with the objective of learning from the Australian experience in water management. Studying optimization, general management and technology management in both storage dams and related technologies, they also learnt about artificial recharge of aquifers and other initiatives related to water use efficiency and water scarcity. From all the site visits and meetings the Chilean group saw first-hand Australia's leading-edge water management and talked with the key people.
---
ICE WaRM, CSIRO and NCGRT work together on a Study Visit by Pakistan Water Engineers: 19th June – 3rd July 2016


As part of the Australian Government's Sustainable Development Investment Portfolio (SDIP), ICE WaRM in partnership with CSIRO, designed and delivered groundwater modelling and management workshops in Australia for six engineers from Pakistan govt organisations:
•  Water and Power Development Authority (WAPDA),
•  Punjab Irrigation Department (PID),
•  Sindh Irrigation Department (SID).
This Study Visit was a forerunner for the imminent signing of the Subsidiary Arrangement between Government of Pakistan and Government of Australia that covers the activities under the Pakistan SDIP project, aiming to build technical capacity in Pakistan to meet its Indus basin water management challenges.
This Study Visit followed on from two previous training workshops on Integrated River System Management and Modelling which was attended by Provincial Irrigation departments and key universities in Pakistan on 25 November 2015.  During these workshops the strong interaction between surface-groundwater was highlighted as well as the importance of groundwater for agricultural and urban supplies.  Consequently, a need was identified to build groundwater modelling capacity within WAPDA, PID and SID.
The Study Visit was in two parts;
Part 1: At NCGRT/Flinders University studying Groundwater Modelling theory, under Dr Michael Teubner.
Part 2: At the CSIRO Canberra laboratories building an Indus Basin Groundwater Model with CSIRO's Dr Wolfgang Schmidt and colleagues.

Pakistan delegates arriving to study at Flinders University City Campus on a cold Adelaide morning.
---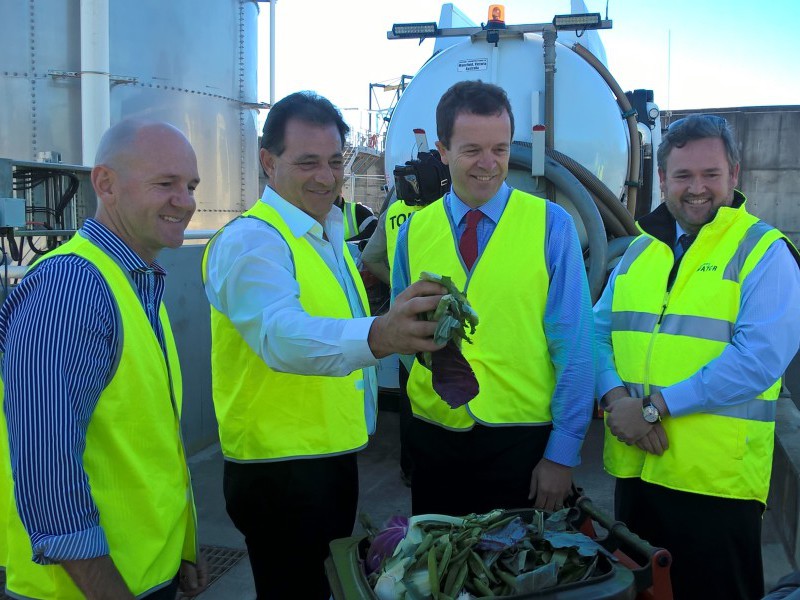 Sydney Water 'Waste-To-Energy' Project
Renewable energy being produced from food waste will generate more than 60% of the energy the Cronulla sewage plant needs. Not only will the food waste help to generate renewable energy to power the plant, it will also save 150,000 wheelie bins of fruit and vegetables per year from landfill.
---
Stormwater Management

You won't regret taking 4mins out of your day to watch this practical step-by-step discussion of the partnerships, negotiations and actions that are helping one Melbourne council manage stormwater while also greening reserves and parks.
---
Free 30 min Webinar: 3rd Generation Irrigation Systems Efficiencies: The move from Off-Farm to On-Farm to Business Efficiencies

Andrew Johnson, PIRSA
Friday 29th July, 1:30pm (CST), further details to follow

Free 30 min Webinar: community wastewater reuse

Professor Howard Fallowfield, Flinders University,
Friday 26th August, 1:30pm (CST), further details to follow

Workshop on River Modelling for Decision Makers:

ICE WaRM will join with the IWA World Water Congress to offer a this critical workshop
Sun 9th October 2016.

HEC-RAS 1D and 2D Course:

Now being offered across 5 days: Mon 17th – Fri 21st October 2016

Hydrology and Hydraulics for Non Engineers Course

Becoming increasingly important for all water-focussed organisations interested in improving their water management capabilities
Wed 21 – Fri 23 Sept 2016

Water Sources in 2050, view these videos from ICE WaRM's recent workshop and webinar:
National:
Across Australia there is a huge range of value-adding professional development opportunities. See these two tables:
---
Can water help our cities cope with rapid urbanisation and climate change?
Dr Robert Skinner, Professorial Fellow and Director of Monash University's Water for Liveability Centre
The impacts of rapid urbanisation and climate change mean our cities are at risk of becoming "unliveable" unless we dramatically change the way we plan and design our cities – with water as a central focus. This is not idle speculation, it is a reality that we are starting to see play out in many cities around the world.
The IWA Principles for Water Wise Cities, currently being drafted through the consultation of water professionals provides a framework to develop a shared vision amongst urban stakeholders.
---
Water is the key to prosperity and liveability in cities of the future
Shaun Cox, Chairman, Water research Australia Limited
Urbanisation is a worldwide phenomenon that is growing at a rapid rate. More than half of the world's population now lives in cities, a landmark for humanity. My own country of Australia is leading this trend. Despite having a huge landmass (about the size of the continental United States of America), we are one of the most urbanised countries in the world. Some 90 percent of Australians live in cities and urban communities, and around 40% of us live in just two Cities – Sydney and Melbourne. This means that cities today fundamentally underpin the world's economy – making them a central focus of any policy debate.
---
Feeding 9 Billion

I suspect this will be one of the most inspiring and challenging 12 mins you will see for some time.
It's about the four success factors proven to avert extreme food scarcity: Science &Tech; Distribution; Local Food Systems; Regulation
Feeding 9 Billion, a food security initiative that provides insight, outreach, & education around issues of food, agriculture & hunger globally.

University of Guelph
---
Chart of the Month:
Interesting way to display the data on the Rivers Discharge (M3, per second):

---
It's not new, but the stark facts below are a constant reminder of how easy it is to underestimate the importance of good water management.
The Aral Sea has shrunk to a tenth of its size after just 47 years.
It was same size as Tasmania:
•    1960s – 68,000 sq kms
•    2007 – 6,800 sq kms.
All this with the full knowledge of many well-meaning globally-respected organisations, planning and supporting positive outcomes.
References:
•   Wikimedia.org: Aral Sea.gif
•   Grida.no: The-disappearance-of-the-aral-sea.jpg
---
Job Opportunities:

Intermediate Hydrogeologist / Modeller
Klohn Crippen Berger is seeking motivated individuals to apply for the position. This is a hands-on salary based technical role which will add to our international geoscience practice in the core area of groundwater modelling. In this role you will work closely with a large team of specialists, including other modellers, on projects within Australia and internationally.
Hydrologist
Rio Tinto is looking for a Hydrologist to identify and characterise hydrologic (flooding) risks to current operations and future mine development and then effectively communicating the magnitude to site and multi-disciplinary study and project teams.
---
Please feel free to pass this Newsletter on to interested colleagues
Kind Regards,
Trevor Pillar

National Partnerships Manager
Phone : +61 8 8236 5200
___________________________________To opt-out of these ICE WaRM emails Unsubscribe here.