Water engagement between Australia and India
Wednesday, 18 July, 2018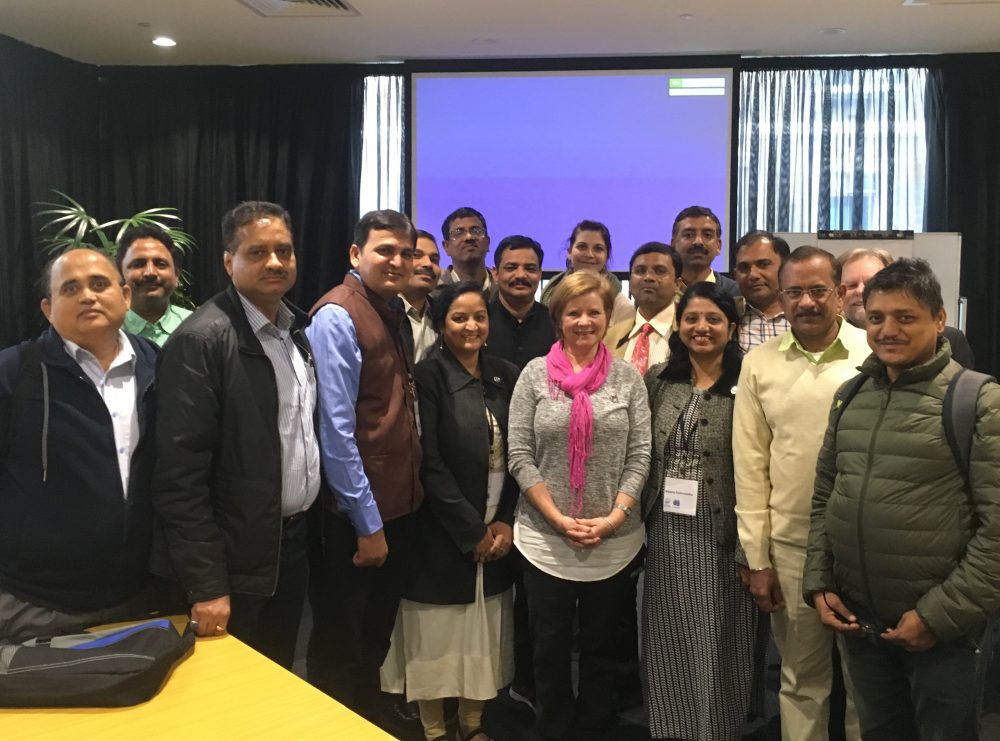 Our Australia Awards Fellows from India have contributed to developing and prioritising projects for collaboration between sister states Rajasthan and South Australia, to improve groundwater management and help reduce infant mortality.
The 14 engineers from the Public Health Engineering Department (PHED) and Groundwater Department in Rajasthan, India, were selected by the Rajasthan Centre of Excellence in Water Resources Management (RaCE WaRM) specifically for the three-week 'Integrated Groundwater Management' programme.
The programme focuses on contemporary knowledge of groundwater including policy, governance, integrated catchment management, conjunctive water planning, managed aquifer recharge and managing water quality.
During a workshop facilitated by Hon Karlene Maywald, the Strategic Advisor, International Water Opportunities with the South Australian Government, the Fellows heard from key South Australian experts and discussed at length how South Australia's water experience could inform decision making in Rajasthan.
Projects discussed in detail included Rajasthan Groundwater Assessment, Mapping and Management (RaGrAMM), Low Cost Management of desalination reject water, MARVI (Managing Aquifer Recharge) and Sustaining Groundwater Use through village-level intervention.
It was identified that further work is needed to finalise the RaCE WaRM business proposals for the Rajasthan Government and requires a clearer mission and objectives to be articulated for RaCE WaRM.
After much discussion, the group agreed upon the mission statement "Good Water for All" and the following objectives were decided.
1. Water for Health (such as reducing infant mortality)
2. Water for Agriculture (including food security, more productive/profitable farmers)
3. Water for the Economy (industry, cities, tourism)
4. Water for the Environment (and for protecting endangered species)
5. Water Security (diversification of supplies, water quality and quantity fit for purpose)
Ms Maywald, who is also ICE WaRM's chair, is extremely positive about the future of RaCE WaRM and excited about what they plan to achieve for the state and the communities living there. She also highlighted the opportunities being developed for Australian expertise to be deployed in collaborative projects.
RaCE WaRM has been working with South Australia through ICE WaRM, to establish a best practice collaborative model for government, research institutions and the private sector. The centre focuses on water quality, water security and the productivity of agriculture in the region.
Rajasthan is a desert state and is the largest state in India by area. There is a lack of basic services in its cities and many households are without piped water connections, a toilet or access to wastewater treatment facilities. Despite this, Rajasthan is a progressive state and today more than 3 million people benefit from improved drainage which has led to a decline in water-borne disease.
Last week the United Nations High Level Political Forum on Sustainable Development was informed by data from 11 global indicators attributing the Sustainable Development Goal 6 on Water and Sanitation, which suggests that the world is not on track for the 2030 Agenda.
The SDG 6 Synthesis Report 2018 on Water and Sanitation reviews the global progress made towards achieving this goal and some of the concerns identified are the worsening of water pollution, that governance structures are weak and fragmented, and that capacity is insufficient. Programmes such as the Australia Awards Fellowships are helping to address these concerns.
ICE WaRM is committed to working with the South Australian Government and the Australian Government Department of Foreign Affairs and Trade (DFAT), to build on human resource capacity development in Rajasthan, to develop a network of future leaders in the water sector and contribute to the achievement of the Sustainable Development Goals in South Asia.
The Integrated Groundwater Management Programme has engaged the University of Adelaide, Flinders University (including the New Venture Institute), the National Centre for Groundwater Research and Training, the South Australian Government, including the Department of Environment and Water, and a number of guest speakers including (but not limited to) Australian Water Environments, SA Water, Water Industry Alliance members, Andrew Telfer and Australian National University, Environment Protection Authority, CSIRO and Western Sydney University.
Related links
SDG 6 Synthesis Report 2018 on Water and Sanitation