Water Abundance XPRIZE: creating water from thin air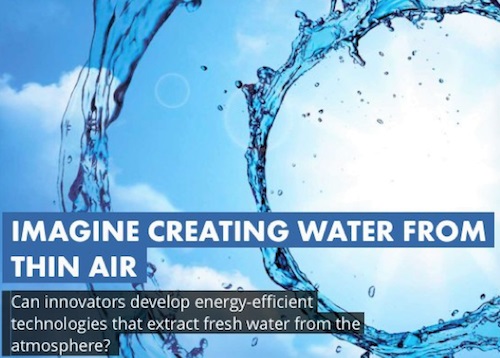 The Water Abundance XPRIZE powered by Tata and Australian Aid is challenging teams from around the world to revolutionise access to fresh water by creating 'water from thin air'. If you have an innovative idea to tackle water scarcity through energy-efficient technology register for the USD1.5 million prize before 28 April 2017.
The Water Abundance XPRIZE is a global competition inviting innovators everywhere to tackle water scarcity by developing energy-efficient technologies to improve affordable and on-demand access to clean water, particularly in high humidity areas where water is currently unavailable or inaccessible.
The Water Abundance XPRIZE aims to inspire breakthrough solutions that will address the lack of access to clean water, encapsulated in the United Nation's Sustainable Development Goal (SDG) 6. Water scarcity is a serious issue in the Indo-Pacific region. XPRIZE is the global leader in designing and operating massive incentive competitions to solve humanity's grand challenges.
The Australian Department of Foreign Affairs and Trade's innovationXchange is partnering with XPRIZE, and together they are calling on innovators from around the globe to compete in the Water Abundance XPRIZE to help solve this challenge.
Registration for the Water Abundance XPRIZE closes on 28 April 2017. It is followed by a 17-month process of designing, testing and evaluating inventions, with the winning team announced in August 2018.
Registrations can be submitted through http://water.xprize.org