The Technical University of Dresden
Thursday, 23 December, 2010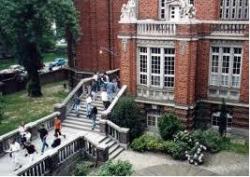 Students from the Netherlands, Germany and Scotland have signed up to join ICE WaRM's multi award winning Master of Water Resources Programme from the start of Semester 1 in 2011, under the Australia-European Union SWaRM Exchange Scheme.
The largest group from the Technical University of Delft will be joined by students from the Technical University of Dresden and Dundee University. The EU-AU exchange also gives eligible Australian students the chance to study at one of these three European universities.
Two Australian students currently are completing a semester at European partner universities.
Andrew Mercer from the University of South Australia is working on a water quality research programme at the University of Delft and is living in The Netherlands with his partner.
Ebony Clark from Deakin University is studying at the University of Dresden, after being alerted to the exchange programme by a student from Dresden who spent a semester in Australia.
Andrew and Ebony will return to Australia in February.
Australian students in the fourth year of a water related discipline at an ICE WaRM partner university and current post-graduates, including students enrolled in the ICE WaRM Master of Water Resources Management, are eligible to take part in the exchange scheme.
For more information, please contact ICE WaRM staff and visit the website.