The Mekong River Group Prepares to Return Home
Friday, 24 December, 2010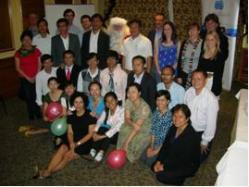 International demand for ICE WaRM's Professional Development Programmes (PDP) has reached new peaks and the schedule is heavily booked for the first semester of 2011.
Following the outstanding success of the 2010 schedule, ICE WaRM is organising extra programmes to meet the requirements of its overseas partners, especially in south east Asia.
The 2010 schedule concluded in late December with the completion of the PDP for 18 staff representing higher education institutions specialising in water resources management training and research, together with staff from water management agencies from five Mekong River nations.
The six week course was the last in a packed series which has brought international training groups to Australia constantly since September.
ICE WaRM Chief Executive, Richard Hopkins, says the popularity of the PDPs reflects increasing awareness of water resources management in the region and the rapidly growing reputation of the ICE WaRM intensive programmes.
"ICE WaRM's programmes are recognised as being an important factor in developing the water resources management capacity of nations across the south east Asian region, as well as here in Australia," he says.