Thai Delegation Visit the Murray Mouth
Sunday, 5 December, 2010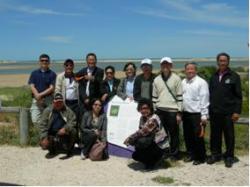 A group of 13 senior water resources officials from Thailand has completed a groundbreaking 10-day intensive learning tour of Australia, visiting Canberra, the Goulburn Valley in northern Victoria and Adelaide.
The ICE WaRM-organised tour in early November – the first phase of a water resources exchange programme between Australia and Thailand – concentrated on flood and drought management schemes in the Murray-Darling basin and related programmes, as part of the ongoing collaboration with Thailand.
The AusAID-supported delegation started in Canberra with visits to the Murray Darling Basin Authority, the National Groundwater Conference and the National Water Commission, before moving on to view the Hume Dam and other water management infrastructure.
The group also examined irrigation projects in the Shepparton region of Victoria and went on to Adelaide, where they visited the Murray mouth and took part in a series of workshops, before returning to the national capital for further high-level meetings.
This is a first in the new generation of bilateral cooperation between Thailand and Australia and its focus on water management is a significant and welcome development.
Plans for the next phase of activities early next year are being finalised.