Smart solutions for water resilience
Thursday, 14 November, 2019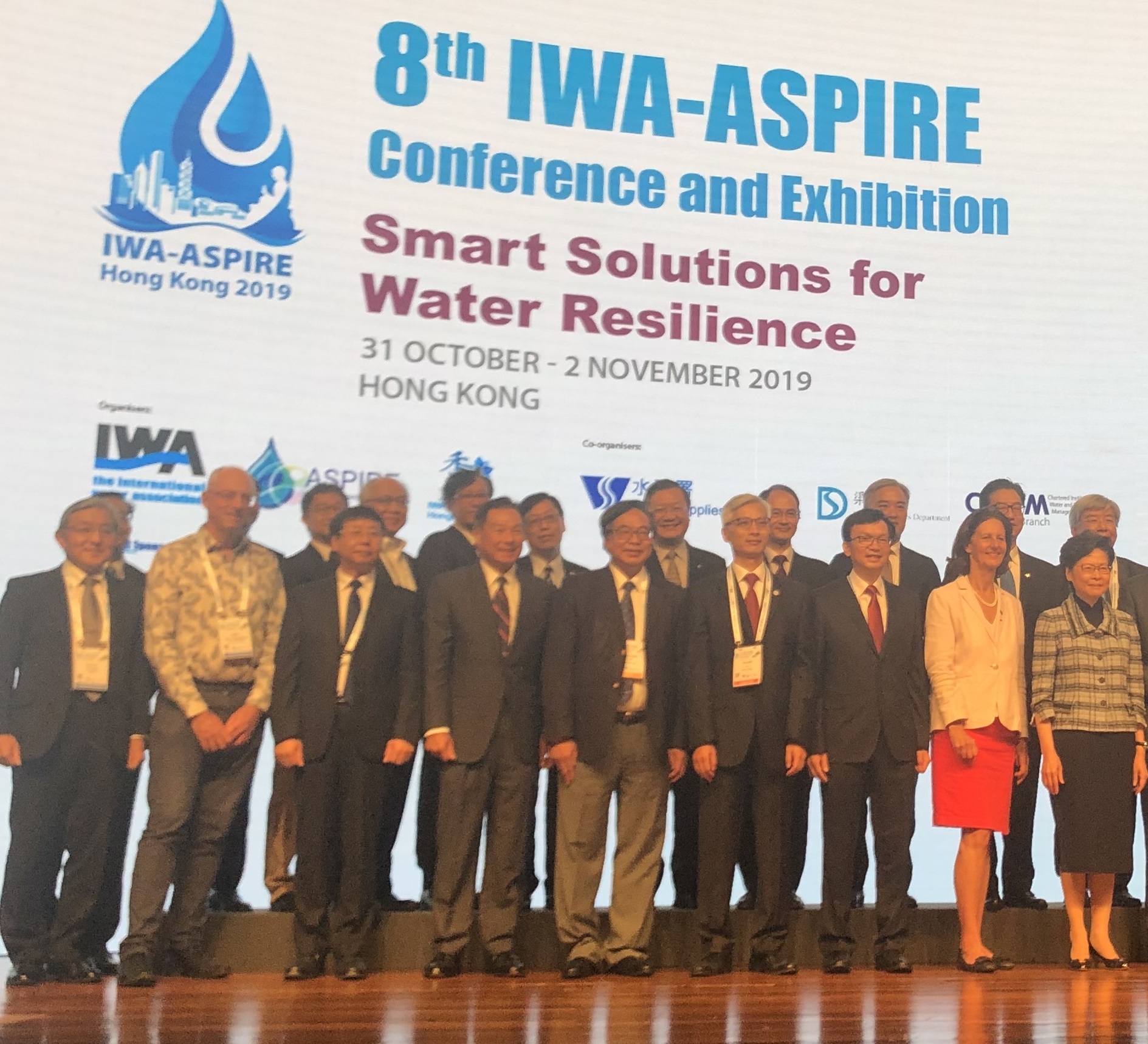 The 8th International Water Association (IWA) ASPIRE Conference and Exhibition was held in Hong Kong on 31 October to 2 November 2019, attracting over 1,000 participants from around the world, from the industry, governments, utilities, regulators, academia and research organisations.
Under the theme Smart Solutions for Water Resilience, the conference addressed the global water sector's emerging shift towards adopting new technologies, explaining that this diversion has been driven by such forces as the SDGs, climate change impacts, extreme weather events and growing water scarcity. The conference provided a platform for critical international collaboration and cooperation, especially within the Asia-Pacific region.
ASPIRE was opened by Ms Carrie Lam, Chief Executive of Hong Kong, with a keynote presentation by Ms Diane D´Arras, President of IWA. Ms Carrie Lam provided insights into the incredible engineering feats in water and sanitation that have built climate resilient solutions for Hong Kong. This is includes the use of sea water for 80% flushing of toilets, which now accounts for 30% of the water use in Honk Kong. Ms D´Arras set out the challenge in addressing the challenges of the Sustainable Development Goals in the face of climate change and the need for the water community to work together, and with other sectors, in providing innovate, sustainable solutions.
In the session focused on Climate Change and Adaption, ICE WaRM's Managing Director, Darryl Day, provided a key note presentation "All options on the table – aligning people, politics, policy, and practice for a water resilient future". He presented the critical role of water professionals in engaging with communities and the communication between disciplines and professions in developing and implementing long term strategies for resilient and liveable cities.
"It is critical that scientists and engineers have the skills and confidence to communicate with people at all levels, including political leaders, to have impact in finding sustainable solutions", said Mr Day.
"Water and sanitation solutions which incorporate circular economy principles of designing out waste and environmental impact, keeping products and materials in use, and regenerating natural systems, are critical in addressing the Sustainable Development Goals".
Mr Bakshi, Chairman of the Maharashtra Water Resources Regulatory Authority, attended the IWA International Regulators Forum at ASPIRE, and highlighted the innovative regulatory approach that Maharashtra was introducing, including transparency of the true cost of water supply and the price charged for services as a key in changing community behaviour in water awareness and use.
Mr Tao Lim, Regional Director or International Water Association presented on the work of IWA in promoting the adoption of the Principles for Water Wise Cities developed by IWA, and the progress in addressing key challenges in the East Asia region with nature based solutions and the focus on technologies for realising the value of resources in sewage including energy and nutrients.