Sharing a commitment to improved water management
Monday, 8 July, 2019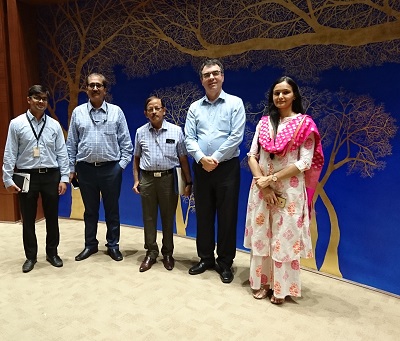 While multiple Indian cities grapple critical water issues provoked by unseasonal drought conditions and changed patterns in the monsoon season, it is timely that ICE WaRM and the Manipal University Jaipur in India, have signed an agreement opening new opportunities for sharing experience and expertise in water management and research.
ICE WaRM's Chief Academic Officer, Dr Ian Reid, recently explored opportunities for collaboration with the Registrar, Dr Ravishankar Kamath and Vice Chancellor, Dr G K Prabhu, from Manipal University Jaipur (MUJ), one of the top universities in the state of Rajasthan. A memorandum of understanding was jointly signed on 29th June 2019.
Launched in 2011 as a self-financed State University, MUJ has redefined academic excellence in the region, invoking a way of learning which inspires students of all disciplines to learn and innovate through hands on practical experience.
The focus of discussions between ICE WaRM and MUJ has been on the benefits of capacity development through the international exchange of staff and students in the water sector.
Research in water quality undertaken by MUJ Associate Professor, Dr Monika Sogani, in particular her work on micropollutants, is of considerable mutual interest in India and Australia.
Dr Sogani expressed that there was much anticipation to plan joint activities for the benefit of both institutions and ultimately, the university students and wider community.
"It is really a matter of utmost pleasure to me and the MUJ fraternity as a whole, to have the ICE WaRM as a partner organization of our Institution," said Dr Sogani.
Jaipur is the capital and the largest city of the Indian state of Rajasthan with an estimated current population of 3.8 million, making it the tenth most populous city in the country.
Both institutions are planning further dialogue on opportunities to work collaboratively on projects in the area of water and environment and address issues concerning water governance and policy, gender and social mobilisation.
Related Links
Manipal University Jaipur