SA Governor Welcomes Mekong River Commission Group
Tuesday, 28 July, 2009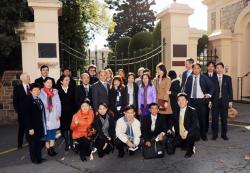 The 21 members of the Mekong group, including four senior Cninese officials, involved in ICE WaRM's Professional Development Programme, have been welcomed at Government House in Adelaide by South Australian Governor, His Excellency Rear Admiral Kevin Scarce AC CSC RANR.
The group arrived in Adelaide in mid-July and received the Vice Regal morning tea welcome at the end of their first week in the city, before continuing their studies with visits to Darwin and the Gold Coast and spending more time studying groundwater management.The 11 man and 10 woman group includes six technical staff and academics from Thailand, five from Vietnam, four from China and three each from Cambodia and Laos.
The Mekong group has attracted considerable media attention, with coverage of its visit in the Advertiser newspaper and on ABC Radio in Adelaide.
The Mekong Subregion supports around 60 million people, most of them involved in farming or fishing. The integrity of the basin's ecology is vital to their social, cultural and economic well-being.
Although the basin is relatively unpolluted, rapid economic development coupled with increasing population pressure is degrading the environment and the authorities are determined to address the situation as quickly as possible.