Research Fellows provided with future vision through Australian experience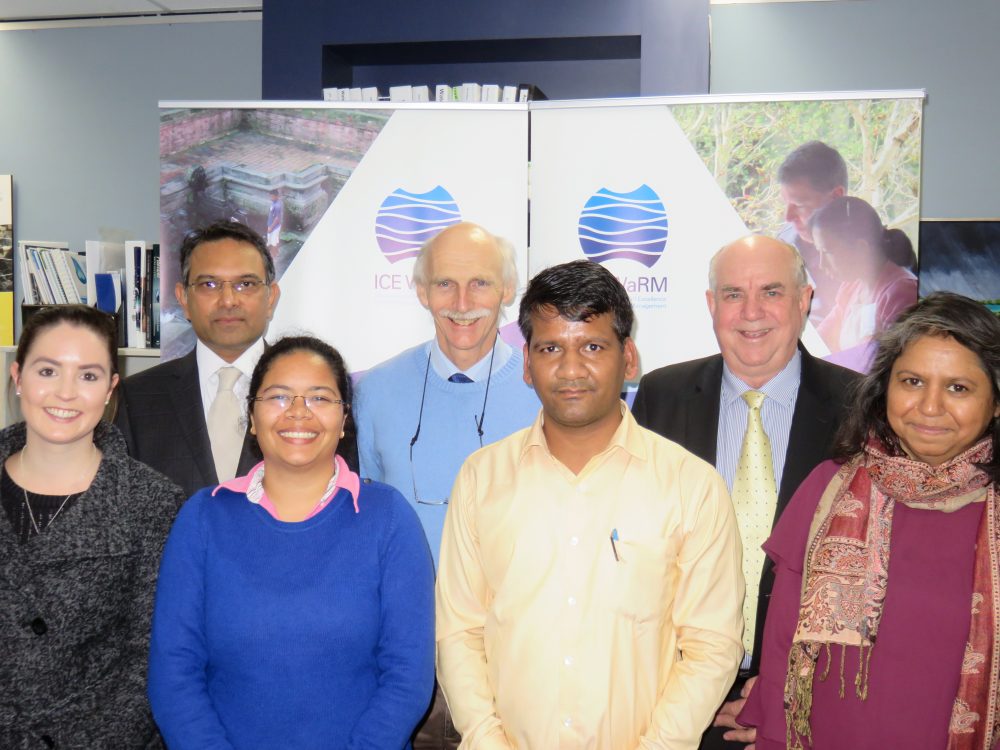 Yogita Dashora and Prahlad Swankar, the first two Fellows from Rajasthan to work with academic and industry colleagues in Adelaide, will return to India this week upon completing their three-month placement.
The Fellows had the passionate commitment of mentors – Dr Peter Dillon (Co-Chair IAH Commission on MAR) and Dr Anu Kumar (Group Leader, Contaminant Biogeochemistry and Environmental Toxicology Program with CSIRO) – to collaborate with on their research and further learnings through the Fellowship.
Yogita Dashora and Prahlad Swankar commenced the Fellowship programme at the highly-regarded Australian Groundwater School delivered by the National Centre for Groundwater Research and Training (NCGRT) and completed their studies with Flinders University and CSIRO respectively.
Prahlad, a Senior Research Fellow in Vidhya Bhawan Krishi Vigyan Kendra (VBKVK), Badgaon, Udaipur, has been working as a Research Associate in the Managed Aquifer Recharge through Village Level Interventions (MARVI) project funded by ACIAR Australia for the past five years. This project is based on groundwater level data collection and analysis, water quality monitoring, village communities and crop demonstrations.
Dr Kumar said the 'train the trainer' approach taken for this programme leads to greater community acceptance in India, and is confident Prahlad will disseminate information, raise awareness and share his Australian experiences with the local farmers in his community back home.
"Through this fellowship we are increasing the number of trained groundwater professionals," she said. "The training to measure and understand aquatic systems, through monitoring, applied research and training staff at ground level is really helpful as in the future this will lead to reliable data for analysis and decision making.
"Through this capacity-building exercise we will be trusted advisors for the local community and government and Prahlad can take a leadership role in training other young professionals in Udaipur."
Locals living within the MARVI project area are increasingly concerned the water quality in the Dharta Watershed, which they are supplied with, is poor and has caused disease, dental fluorosis and bone weakness among members of the community.
During his work over the past three months with CSIRO, Prahlad learnt to determine the toxicity of wastewaters by using aquatic floating duckweed (Lemna minor). The wastewater samples were collected from sites in Adelaide and used for toxicity testing. He was also provided training in analysing water quality parameters such as pH, EC, Dissolved Oxygen, Turbidity, Hardness (CaCO3), Fluoride, and Chloride.
"The methods used for testing chlorine and fluorine are very sensitive and covered the range required for analysing the groundwater samples at drinking water limits recommended by the World Health Organization," he said. "The research fellowship expanded my knowledge in water quality determination and in learning new protocols and procedures.
"This research also helped me learn new methods for surface and groundwater water quality determination. I am more confident to undertake this work in Udaipur independently, train other young staff and help farmers address their water quality issues."
Yogita is a researcher on the MARVI project who has recently submitted her PhD thesis entitled Evaluating the Effectiveness of Managed Aquifer Recharge Structures in the Dharta Watershed.
She says the Fellowship has widened her views on groundwater issues and will enable her to pass on new knowledge with villagers back in her Indian community.
"I have attended five days of groundwater school with 20 embedded lectures on various topics followed by a field trip to a mining site," she said. "It was good experience with hands on training and learning.
"The field and laboratory techniques in hydrology at Flinders University's School of the Environment enabled me to evaluate and compare alternative monitoring and measurement techniques. I also performed various groundwater assessment and monitoring techniques, synthesized results and prepared meaningful data reports from every day field exercise."
Yogita's mentor Dr Peter Dillon said the work-culture experiences she was exposed to go beyond her experience at her home university and will hopefully influence her future career norms for her betterment and for that of her future students.
The Fellowship has also given Yogita the opportunity to be visible for what she is doing, and give her recognition among peers.
"Yogita has been exposed to a completely different work environment, where we form teams, get the job done by whatever means are necessary, with vague demarcation of responsibilities and people are expected to use initiative, without asking permission or having someone look over their shoulder," Dr Dillon said.
"In her community it is difficult to be appreciated as a women for what she can do.  This fellowship, is a god-send as a circuit-breaker, in order for relationships and expectations to change.
"It will be very tough for her, but it is my hope that her work here will prove to others her capabilities and they will give her more space and let her perform unimpeded in India, as she has proved she can do here."
Along with the formal learning part of the programme, Yogita had the chance to meet with Department of Environment, Water and Natural Resources (DEWNR) staff and looked at opportunities to transfer check dams to semi-arid parts of regional South Australia. Yogita was also able to expand her knowledge from DEWNR about the concepts of environmental flows that must be taken into account in South Australia when constructing dams, that are currently not considered in India.
"The Fellowship has been a great learning experience for Yogita," Dr Dillon said. "This has given her a vision of the challenges that she will need to face over the next 20 years in India and to be in front of them."
Darryl Day, Managing Director of ICE WaRM, said the Rajasthan Fellowship programme, managed by the Water Resources Management Trust, was made possible by support from the South Australian Government's Minister for Higher Education and Skills through the Department of State Development (DSD) and CSIRO.
"These exchanges have provided, and will continue to provide a unique opportunity to share knowledge, explore new approaches, establish networks and spend valuable time with mentors," he said.
The Government of the State of Rajasthan established the Centre of Excellence (CoE) in Water Resource Management and entered into a Memorandum of Understanding (MOU) with the State Government of South Australia in August 2016.
Under the MoU SA will assist through the establishment of outcomes, development of a roadmap of activities and delivery of programs and projects.
Yogita Dashora and Dr Peter Dillion also presented a Webinar with ICE WaRM on 15th June, the recording and details are available here.