Report from Dutch Student on SWaRM Exchange
Thursday, 3 June, 2010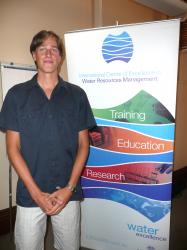 The innovative SWaRM Graduate Mobility Project, which offers study exchanges between Australia and the European Union, is creating fresh educational and personal opportunities for up to 90 students and researchers.
One of the European graduates who's now undertaking five months of study in Australia as part of the scheme is Ber Albers (pictured left), a student of Water Resources Engineering at the Technical University of Delft (TU Delft). He's continuing his studies at the University of Adelaide and has taken time to reflect on his time in this country."I have always wanted to study abroad, if I ever had the chance, and in Australia in particular," he writes. "Since the SWaRM Graduate Mobility Project was presented during a lecture, I was very eager to take part in it. Being able to choose from a range of universities and a list of different courses was a big advantage. This seemed like a great way to see how water management would be taught in a different country.
"After arriving in Adelaide I stayed in temporary living facilities organised by the University of Adelaide. This was a great way to meet other exchange students.
"During my study, I found a few notable differences between the University of Adelaide and the TU Delft. At the TU Delft, most courses are taught in quarters instead of semesters. This means that the number of different courses is higher. The number of contact hours is lower at the University of Adelaide but there are more assignments throughout the semesters which you are graded on. In the Netherlands, the focus tends to lie on the exams, whilst in Adelaide most of your final grade is set throughout the semester. This means some weekends have had to be spent on studying instead of enjoying the country.
"My time in Australia has broadened my view on a number of different levels. Buying a car and travelling with it through Australia has been wonderful. On a more educational level, I have seen differences in ways water management problems are dealt which might be really useful for the future. For me, the experience of living so far from my family and friends in a different culture is important for future career plans."