Regional Advisers Lay Groundwork for Latest PDP
Sunday, 20 March, 2011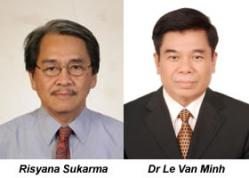 ICE WaRM's leading advisors in South East Asia have played important roles in the Professional Development Programme (PDP) for representatives of the six nations along the course of the Mekong River.
Regional Advisor for the Mekong Region, Dr Le Van Minh, and the Regional Advisor for Indonesia, Risyana Sukarma, were in Adelaide in early March to contribute specific case study material from the region and facilitate a series of visits and meetings.
Jakarta-based Mr Sukarma has been an Advisor to ICE WaRM for the last year, while Dr Minh – who's based in Hanoi – joined the ICE WaRM team soon after.
The presence of such highly respected experts in Indonesia and the Mekong subregion significantly improves preparation and follow-up activities for ICE WaRM alumni in their home countries and with local institutions.
Meantime, ICE WaRM is further developing its professional networks in South East Asia, with International Partnerships Manager Mike Seager, Chief Executive Richard Hopkins and Dr Le Van Minh involved in a series of high-level meetings in Hanoi, Vientiane, Bangkok Khon Kaen and Phnom Penh in late February and early March.
The meetings included existing partner institutions, potential new partners and alumni.