Record Enrollments for Masters Programme
Friday, 18 March, 2011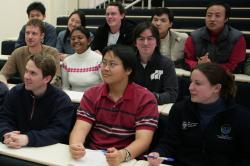 Record numbers of new students have signed up for ICE WaRM's award-winning nested Master of Water Resources programme for the 2011 academic year.
Among the new students is a significant group from Iraq. Most have completed extensive English language training before enrolling in the postgraduate programme.
In line with the growing international interest in water resources management, ICE WaRM has continued to expand the Master programme, this year adding new elective courses in Water Planning and Climate Change.
More students – mostly Australians – are also taking advantage of options to study externally.
The programme includes studies at Graduate Certificate, Graduate Diploma and Master levels and is offered through ICE WaRM's five partner universities – the University of Adelaide, Deakin University in Victoria, CQUniversity in Queensland, the University of South Australia and Flinders University in South Australia.