Recognising achievements in groundwater
Thursday, 28 November, 2019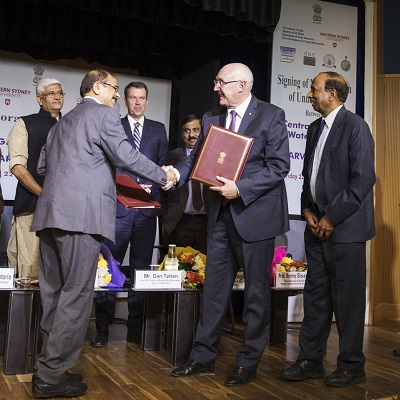 ICE WaRM's National Partnerships Manager, Trevor Pillar, attended the 2019 Australasian Groundwater Conference in Brisbane this week, the largest event in the series so far, attracting over 600 delegates including groundwater professionals from China, Japan, Indonesia, Pakistan, New Zealand and more.
This international event is organised by the International Association of Hydrogeologists (IAH) and the National Centre for Groundwater Research and Training (NCGRT), which is based at Flinders University in South Australia, a shareholder of ICE WaRM.
Over three days, under the theme "Groundwater in a Changing World", more than 100 presenters explored a vast array of science and governance topics, addressing the complex management of groundwater, earth's largest store of accessible fresh water.
As part of the Community Engagement session, Principal Hydrogeologist with the South Australian Department for Environment and Water, Steven Barnett, delivered a standout presentation in which he referred to two real case studies where groundwater extraction vastly exceeded recharge, to eloquently demonstrated the critical need to engage landholders in groundwater management decisions.
In the first case, landholders were asked to accept a small allocation reduction. They immediately acknowledged the problem and agreed to a structured reduction in allocations. Landholders in the second case were asked to accept a large allocation reduction and did not agree. In this case the government gave the landholders all the data and asked them to agree a solution. After protracted and difficult negotiation, they eventually agreed on a workable solution with variable reductions based on the crops of each landholder.
Groundwater has been a key topic in ICE WaRM's training programme which provides specialised training and webinar discussions presented by industry professionals who are experts in their field. The success of this programme has created a community of interest from around the world.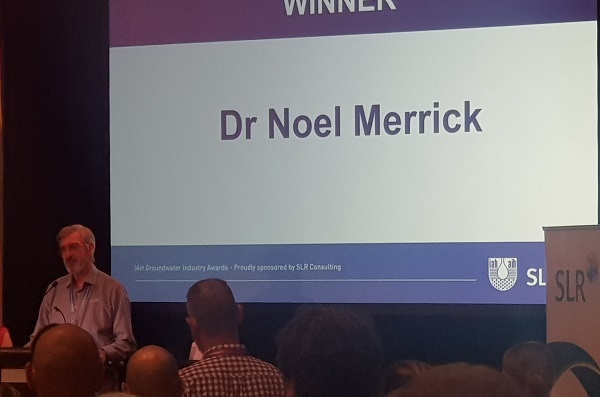 In conjunction with the conference, IAH celebrated its inaugural Groundwater Awards evening, presenting the IAH Groundwater Professional Award to Dr Noel Merrick, a highly experienced groundwater modeller, hydrogeologist and geophysicist. Dr Merrick has worked with ICE WaRM and NCGRT for many years, delivering training in both the Australian Water School and the Australian Groundwater School.
In wider groundwater news, ICE WaRM is delighted to share that MARVI (Managing Aquifer Recharge and Sustaining Groundwater Use through Village-level Intervention) has been recognised by the government of India and its elite, through the signing of a memorandum of understanding between the country's Central Groundwater Board and MARVI partners, in support of participatory groundwater management.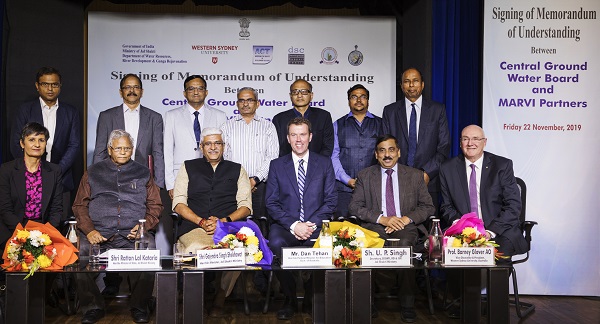 The signing took place in New Delhi in the presence of India's Honourable Minister of State, Ministry of Jal Shakti, Shri Rattan Lal Kataria, U.P. Singh, Secretary, Ministry of Jal Shakti, Department of Water Resources, River Development and Ganga Rejuvenation, Australia's Minister for Education, the Honourable Dan Tehan, Professor Barney Glover AO, Vice-Chancellor & President, Western Sydney University, and Australian High Commissioner to India, Ms Harinder Sidhu.
"Everyone in the MARVI team have contributed enormously and supported unconditionally the work we have been doing over the last eight years," said Professor Basant Maheshwari, Water, Environment & Sustainability at Western Sydney University.
"This is one of those moments of life when I felt something unimaginable. My sincere thanks to everyone who has been a part of the MARVI journey and what we have achieved together."
ICE WaRM has been a collaborative partner of the MARVI project which has been funded by ACIAR and led by Professor Basant Maheshwari in collaboration with CSIRO Land and Water, and a consortium of organisations.
Australasian Groundwater Conference 2021
The next conference will be held in either Perth, Wollongong or Adelaide.
Upcoming Groundwater Training and Webinars
2019 Schedule
Related links about MARVI
About MARVI
Central Ground Water Board (CGWB), India
Water messenger program to be implemented across India