Protecting China's river basins
Thursday, 12 December, 2019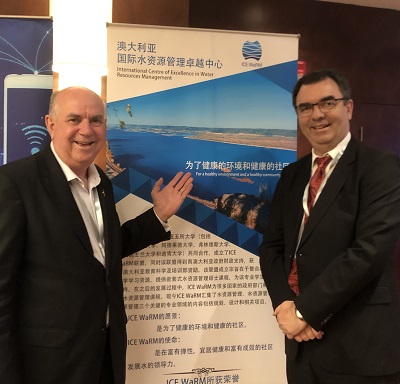 In the next phase of collaboration with the Jiangsu Yuzhi Basin Management Technology Research Institute in Nanjing, China, ICE WaRM has signed an agreement to establish a China-Australia Water School delivering webinars and on-line training in Chinese.
Coordinating river basin governance and regional green development is a topic of increasing concern along China's Yangtse River, and was the focus of the 5th Taihu International Forum which addresses green development and ecological protection.
The Hon Karlene Maywald, Strategic Adviser, International Water Opportunities to the South Australian Government, led a delegation to the Taihu Forum in Nanjing, China, from the 4-6 December. The delegation included Mr Steve Morton, International Business Manager with the South Australian Department of Environment and Water, Mr Darryl Day, Managing Director of ICE WaRM, and Dr Ian Reid, Chief Academic Officer, ICE WaRM.
On the final day of the Taihu Forum, Mr Day and Dr Donglin Zhu, Director of the Jiangsu Yuzhi Basin Management Technology Research Institute, signed an agreement to jointly launch the China Australia Water School which will initially deliver ICE WaRM webinars translated into Chinese, with a longer term strategy to deliver online training.
"The initiative is exciting in that it provides a two way opportunity to present thought leadership from both China and Australia in addressing the challenges of river basin planning and management, and water awareness," said Dr Reid.
An early focus will be working in partnership to support the capacity development for River Chiefs, and the translation of science into policy and practice.
"The move to phase two of our collaboration with the Jiangsu Yuzhi Basin Management Technology Research Institute, based in the inspirational city of Nanjing, will strengthen the two way sharing of knowledge and provide a platform for deeper collaboration between Australian Universities and research organisations, including the Goyder Institute," said Mr Day.
"Establishing the right governance model is critical to basin management, and ICE WaRM is honoured to assist, along with support in capacity development and sharing of experiences in science to policy and practice."
A workshop on River Basin Protection and Citizen Science conducted during the forum, enabled the sharing of practices in China, and globally, in engaging with stakeholder communities in developing water awareness and participating in watershed management, protection and restoration. The increasing adoption of nature-based solutions provides new opportunities to involve local communities in the concepts through to monitoring the effectiveness of the solutions, to address water quality.
There was strong interest in the innovative work on watershed protection in Australia, especially the work led by Dr Anu Kumar from CSIRO in addressing Environmental Contamination Assessment Tools and Techniques, and the Australian regulations and guidelines, which protect human and ecosystem health and allow the safe use of chemicals and disposal of wastes. This is an area of strong interest in collaboration for both countries to address emerging challenges impacting water quality and the ecology in river systems with links to the food chain.