Planning Advanced for Closer Trials
Friday, 18 March, 2011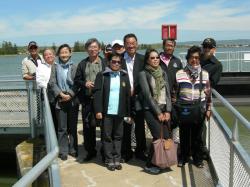 Detailed planning is underway to forge closer links between water resources officials in Australia and Thailand, following the success of the ICE WaRM-hosted visit to Australia by a high-ranking Thai delegation late in 2010.
The second phase of the cooperative programme will be a visit by Australian water resources officials to Thailand later this year.
In Phase 1, a group of 13 senior water resources officials from Thailand completed a 10-day intensive learning tour of Australia, visiting Canberra, the Goulburn Valley in northern Victoria, Melbourne and Adelaide.
The study tour concentrated on flood and drought management in the Murray-Darling basin and related programmes.